Family Holidays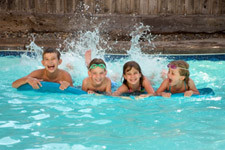 Family Holidays tend to consist of a safe sandy beach, great hotel facilities with on site kids club, baby sitting, crèche facilities, a wide range of sport facilities such as cycling, horse riding and water sports facilities such as canoeing and sailing.
All Inclusive Hotels are a good base for family holidays to try and budget how much you will spend in total. Child care facilities are quite important also when looking for your hotel, allowing you time to relax round the pool during the day while the children are playing under organised supervision. Some families prefer to go self catering with their own private swimming pool to create a quieter family holiday and make their own entertainment.
Watch out for transfer times from the airport to your accommodation - short transfers being hassle free. There are thousands of family friendly resorts in the Med proving popular with British families due to the short flying time.
Skiing holidays are also a perfect family holiday - however it is best to go to destinations like Bulgaria, which is more value for money when you arrive in resort rather than Austria and France which can be very expensive once out in resort.
To keep the cost down, many tour operators offer free child places if you book early. Alternatively, you may take an option and go for a late deal allocated on arrival holiday. Another cheaper family option is to book a night flight or an early morning flight, again keeping the price down.