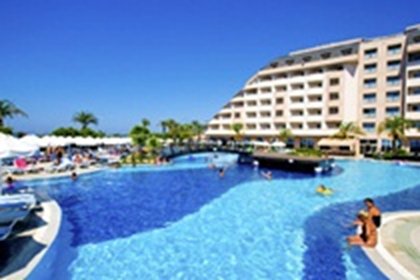 Hotel Overview
The Long Beach Resort Hotel and Spa is a lively, modern destination, standing on a stretch of private beach at the resort town of Alanya, Turkey. The 447 guest rooms at the hotel were designed with comfort in mind, and no expense has been spared. Guests can choose between full suites, family rooms, guest rooms or villas, and there are even upgrade options to book a suite with a private sauna!

Other facilities on offer at the Long Beach Resort Hotel and Spa include a cinema, nightclub, shopping area and even bicycle hire. The spa area features a steam bath, sauna and massage rooms, and the 24-hour reception offers a currency exchange service.

##Location
Head into Alanya to find cafes, bars, markets and shopping centres. Immediately outside the hotel is an idyllic stretch of private beach, where you can partake in a wide range of water sports, or just enjoy the golden sand and warm blue waters.

##Accomodation
The rooms come with a number of luxury fittings as standard; you'll find a satellite-ready television, high-speed internet, en-suite hot tub and air-conditioning. Room service and a laundry service are also available to guests.

##Eating and Drinking
You'll find a total of five restaurants at the Long Beach Resort Hotel & Spa. Between them they serve a wide range of food, including both international favourites and local specialties.

##Swimming Pools
The Long Beach Resort Hotel & Spa benefits from several good quality swimming pools.