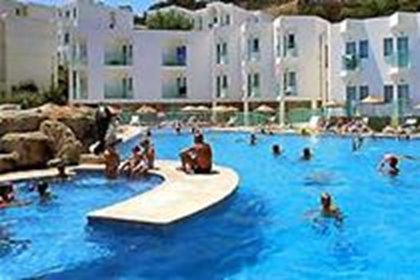 Hotel Overview
AVAILABLE MAY TO OCTOBER - The Royal Panacea Hotel (formerly known as the Guler Resort Hotel) sits on a hillside, 600 metres from the beach and 200 metres from the centre of Gumbet. The 3 mile trip to Bodrum and its castle, on a dolmus (local bus), is a great way to see some Turkish history and culture. The bus stops on the main road close to the hotel.

Please note that the transfer time from Izmir Airport is 3 hours and 30 minutes.

##Location
There are super views from the property over the sea and Gumbet. The 126 rooms within the property are comfortable and bright. The town has a good selection of restaurants and bars, and a `party town` atmosphere after dark.

##Accomodation
All have * bathroom/shower * WC * TV * telephone * mini fridge * air conditioning * (certain amenities may be payable locally)

##Eating and Drinking
The property has a buffet style main restaurant and a pool bar serving snacks and drinks.

##Swimming Pools
The hotel has a swimming pool and a children`s pool.