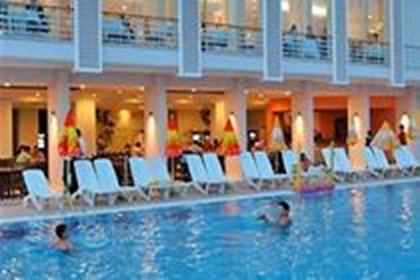 Hotel Overview
This property is surrounded by large gardens, on the longest beach in Turkey, 4 miles from the centre of Kusadasi. The town has some good seafood and Turkish restaurants and one of the largest shopping bazaars in Turkey, with well over 1000 jewellery, leather, carpet and souvenir shops. Shops are open 7 days a week from 9 in the morning till midnight and bargaining is a must.

##Location
The hotel has 12 family rooms and 233 standard rooms, all with a sea view. The area of gardens between the hotels pool area and beach is the perfect place to soak up the sun and relax. The beach offers a selection of water sport activities if all the relaxation becomes too much.

##Accomodation
All have * bathroom/shower * WC * telephone * minibar * TV * air conditioning * terrace/balcony * (certain amenities may be payable locally),

##Eating and Drinking
The hotel has 2 restaurants, a pool bar, a snack bar and a lobby bar. The hotel operates an All Inclusive programme which includes breakfast, lunch and dinner, all buffet style, served in the main restaurant. Snacks such as hamburgers, cheeseburgers, sandwiches, omelette, spaghetti, fried potatoes and pizza are offered from 1pm to 5pm. At Pide House guests can taste five different Turkish pizzas (mince meat, cheese, chicken, vegetable and Lahmacun) from midday till 5pm as well as Turkish Gozleme, spinach, cheese, potatoes, Ayran and juice service between 1pm and 5pm. Tea and coffee time with cookies is from 5pm until 6pm, ice cream time from 4pm to 5pm, midnight soup (fresh daily) is offered between midnight and 1am, locally produced alcoholic and non-alcoholic drinks are served from 10am and midnight at selected bars.

##Swimming Pools
The hotel has a swimming pool.