BQ Hotels
BQ Hotels are comprised of 2, 3 and 4 star Hotels situated in Mallorca, Málaga and Santo Domingo.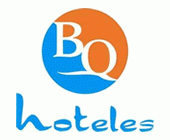 BQ Hotels:
Majorca
BQ Anfora 3 Stars – Can Pastilla
The hotel is located in Can Pastilla, on Cala Estancia beach and only 12km from the centre of Palma de Mallorca with a regular bus service. Fully modernized, it has 61 air-conditioned bedrooms in a 5-floor building.
Most of the rooms have sea views and all have a balcony and ensuite bathroom.
The hotel is open all year and has a self-service buffet restaurant in addition to a bar cafeteria with a large terrace on the beach.
BQ Anfora Beach 2 Stars – Can Pastilla
Located in Can Pastilla only 200m from Cala Estancia beach and 12 km from Palma city centre.
The hotel has 101 bedrooms with ensuite bathroom, balcony, telephone and satellite TV, spacious lounges, buffet breakfast, bar-cafeteria and an outdoor terrace with a swimming pool.
BQ Apollo 3 Stars – Can Pastilla
Located 150 metres from Can Pastilla beach, facing the small cove of Son Cayos, next to the well-known Playa de Palma area and 12 km from the city centre.
The six floor building has 144 air conditioned bedrooms. All the rooms have a large balcony and most have a sea view. It has a large social lounge, swimming pool bar and an air-conditioned, non-smoking restaurant with a self-service buffet. The facilities are completed with two swimming pools, one covered and heated for use during winter and the other outdoor facing the sea.
BQ María Dolores 3 Stars – Paguera
Located in the centre of Paguera and only 200m from the beach and the Boulevard.
The 4-floor hotel has 66 comfortable and cozy bedrooms, all with ensuite bathroom and balcony. The swimming pool and garden give the hotel a friendly atmosphere for unforgettable holidays.
BQ Augusta Apartments 3 Stars – Palma
Augusta Apartments are in a residential area, next to port of Palma and only 5 minutes from the city centre.
The 49 studios and 10 apartments are fully equipped with the latest mod cons and include all facilities. All have a full bathroom suite, air conditioning and a large balcony area. Buffet style breakfast. They also have a cafeteria & outdoor swimming pool with terrace.
BQ Belvedere 3 Stars – Cala Mayor
Situated in the Bay of Palma 850m from Cala Mayor beach and in a peaceful and quiet area.
The 9-floor hotel has 414 fully equipped bedrooms, a large swimming pool surrounded by gardens with a sun bathing area and two Jacuzzis. There is a non-smoking, self-service buffet style restaurant with air conditioning as well as a pizza restaurant and a snack bar beside the swimming pool.
BQ Carmen Playa 3 Stars – Playa de Palma
BQ Carmen Playa Hotel is located in one of the largest areas catering for all types of leisure activities at the famous Playa de Palma, 150 metres from the beach and only a few metres away from the night life.
The bus stop where you can catch buses that go to Palma City and Arenal is only 50m from the hotel. It has 93 bedrooms, all of them with air conditioning, ensuite bathroom, balcony, telephone, satellite TV and a safe deposit box if asked for. The restaurant serving self-service buffets is air-conditioned and there is a public room with satellite TV and bar.
BQ Bulevar Peguera 3 Stars – Paguera
The hotel Bulevar Peguera, located in Paguera, close to Calvia is 19 Km far from Palma de Mallorca and 29 Km from the Airport.
Recently refurbished hotel located in an area of pine forests and sandy beaches, just 200 metres from the Palmira Beach (one from three Beaches in Paguera) and situated only 5 Km far from two 18-Hole Golf Courses, with the possibility of enjoying the Fornells Cove, one of the prettiest of the island.
Dominican Republic
BQ Santo Domingo 4 Stars – Santo Domingo
The hotel has 137 comfortable rooms fully equipped to make your stay a most memorable and pleasant one. In any of our 7 banquet rooms you may conduct social, corporate or educational activities. Indulge in the best national and international recipes in our Restaurant Delta Café or relax in our pool and heated Jacuzzi on the terrace. In addition there is a Business Center with access to the Internet 24 hours a day, 7 days a week and a gym equipped with the most modern equipment, both totally free for guests.
Costa del Sol
BQ Andalucía Beach 4 Stars - Torre del Mar
BQ Andalucía Beach is a newly built establishment with four stars is located a few meters from the sea.
Situated in the tourist resort of Torre del Mar, in the region of the Axarquía Malagueña, located on the west promenade, just 300 meters from the city center and shopping area. There are a total of 161 rooms, with bathroom, of which 5 are Junior Suites with separate lounge. The hotel has a swimming pool, sun terrace and public rooms and a garage for guests.
Check availability and book a great value BQ Hotel with UlookUbook.