Blau Hotels
Blau Hotels and Resorts are proud to offer a collection of hotels to book in Mallorca, the Dominican Republic and Cuba. Their hotels have privileged locations in areas of extraordinary natural beauty.
Blau Hotels and Resorts are committed to providing service of an exceptional standard. Their team of professionals is at hand to make your holiday a memorable.
Blau Hotels and Resorts are perfect for a family holiday with the Blaudiland children's club at each of our family hotels. Blau's first-rate cultural activities and sports facilities will ensure you are kept entertained throughout your holiday.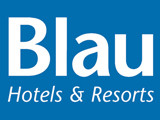 Blau Hotels:
Majorca
Porto Petro
Blau Porto Petro Beach Resort and Spa – 5 Stars
Sa Coma
Blau Mediterraneo Hotel – 4 Stars
Blau Meditarraneo Club – 3 Stars
Cala Mandia
Blau Punta Reina Resort – 4 Stars
Sant Jordi
Colonia Sant Jordi Club – 4 Stars
Dominican Republic
Punta Cana
Natura Park Beach Eco Resort & Spa – 5 Stars
Cuba
Cayo Coco
Blau Colonial Hotel – 5 Stars
Holguin
Blau Costa Verde Beach Resorts – 4 Stars
Varadero
Blau Varadero Hotel – 5 Stars
Check availability and book great value Blau Hotels with UlookUbook.