Haven Holiday Parks
Haven Britain's Favourite Seaside Holiday
Haven Holidays have over 35 Parks offering you the best of the British seaside.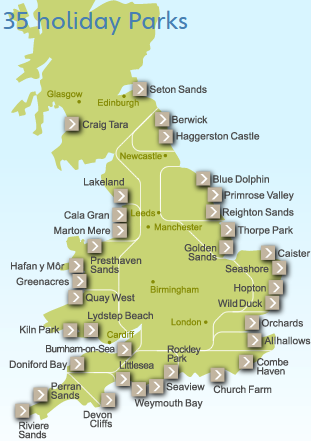 All the Haven Holidays Parks are in coastal resorts and include the magestic coastlines of Scotland and Northumbria, the endless sands of Yorkshire and Lincolnshire, the peaceful havens in Norfolk and Essex, the sun drenched shores of Sussex, Kent and Dorset, the surfing paradise that is Devon and Cornwall, the relaxing beaches of Somerset, and the stunning Welsh coastline. Not to mention action packed Blackpool and the charm of the Lake District.
The largest problem in your families hands will be to decide which one of the 35 award winning Parks you will visit . All the parks offer a wealth of facilities to entertain any age group.
At Haven they listen to your opinion and they are constantly improving their holiday parks to make it a more enjoyable stay for their guests. They are continually adding new pools and lazy rivers so you have the most fun possible. They are also improving the most important bits like changing rooms and showers. New places to eat, drink and relax are being added to parks. Haven spend a great deal of money each year on the improvement of both accommodation and landscaping to make sure you enjoy the most of your holiday.
At Haven they have leisure facilities that are second to none and include water slides, tennis courts, circus school and loads more fun packed facilities. The great thing with Haven is that most of the activities are completely free WOW!!
Haven design their parks around families so this means first class entertainment, top facilities, and a wide range of food that will cater for all ages and taste buds. Their accommodation is designed to be a home from home, they also have train the staff to help you make the most of you fun filled holiday. And the most important feature for families is that the Parks are safe so you are secure in the knowledge that you children can roam freely.
Havens self catering accommodation lets you make your own choice on the standard of caravan holiday homes to suit you and your budget. From the hugely popular and great value Standard and Superior homes to the luxury Platinum models. Special choices such as Chalets, Apartments, adapted Holiday Homes and Half Board options are also available.
You can also bring your own accommodation when you pitch your tent or park up your tourer or motorhome. Haven Parks offer 23 beautifully landscaped holiday parks with unrivaled facilities
Why not click our links to take a detailed look at each Haven Park.

So for a fun filled action packed holidays in fantastic UK locations why not try a Haven Holiday? And with School Summer Breaks from only £269 for the whole family you can bag yourself a bargain.
Call Travelbubble now on 0191 2446163