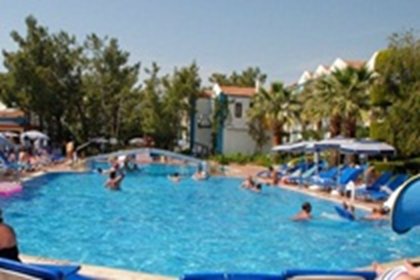 Hotel Overview
Yel Holiday Resort is located just outside of the beautiful resort of Olu Deniz in the Dalaman region of Turkey. There are stunning views of resort and panoramic views of the mountains from the Resort. Make yourself at home in one of the spacious and well-appointed rooms that are decorated in a style typical of the region featuring all the comforts of home. A minibar, air-conditioning and a TV with satellite channels are just some of the array of in-room amenities and all rooms open out to a balcony with views of the pool or lovely gardens. Complimentary Wi-Fi is available if you wish to stay connected and the attentive and multi-lingual staff are on hand around the clock to ensure you have all you need for this truly enjoyable stay.
Leisure facilities at the Yel Holiday Resort include a large outdoor swimming pool with feature bridge and water slide. The pool is surrounded by a selection of comfortable lounger's where you can spend the days relaxing under the Turkish sun while sipping on drinks from the poolside bar. The younger guests will also appreciate their own swimming section and will find endless hours of fun at the on-site playground. Sports facilities on-site also include table tennis, darts and pool equipment.

##Location
Yel Holiday Resort has its own stretch of private beach, so why not hop on the complimentary shuttle bus service from the hotel for a relaxing day on the beach where you can dip your toes in the warm waters or simply kick back and soak up the sunshine on your Olu Deniz holidays. Or you could head to the stunning beach in the resort and try some water sports activities including diving, snorkeling and windsurfing on your holiday to Turkey.
For some non-beach activities on your holidays, Olu Deniz offers paragliding, parascending and hand gliding. For those of you who would prefer to stay on the ground, you could try horse riding, walking or cycling or why not book an excursion. The kids will love glass-bottomed boat trips and there are also many historic sights to see on a holiday at the Yel Holiday Resort in Olu Deniz.

##Accomodation
All rooms have a private bathroom and open out to a balcony or terrace. Additional amenities include air-conditioning, satellite TV, telephone and Wi-Fi. Certain amenities may be payable locally.

##Eating and Drinking
The hotel has a restaurant and bar.

There is an excellent All Inclusive option on offer, which includes the following:
Breakfast: 07:30 - 10:00
Lunch: 12:30 - 14:00
Snack: 15:00 - 16:30
Coffee break: 16:30 - 17:30
Dinner: 19:30 - 21:30
Local drinks alcohol or non-alcoholic: 10:00 - 24:00
Free shuttle to the beach: 10:00 - 11:00
From the beach: 16:00 - 17:00

##Swimming Pools
The hotel has a large swimming pool with a water slide and children's pool.