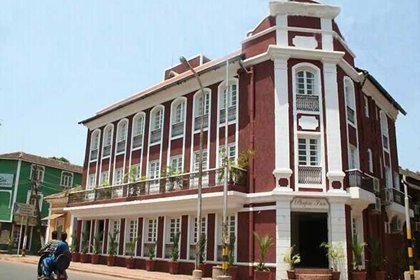 Hotel Overview
The Welcome Heritage Panjim Inn is a city centre hotel built in 1880, located in the heart of Panaji and part of the romantic Latin Quarter Pantheon within easy access of both the North and South Goan beaches. Originally amongst the first big colonial mansions of Fontainhas and exuding a Colonial style reminiscent of days gone by, this 3 Star hotel is near the city centre with all the shopping, nightlife hot-spots, and a number of restaurants. There are 24 bedrooms, 12 in the old house and another 12 in the rebuilt section facing Rua de Ourem, all with modern facilities and traditional hospitality. Dabolim Airport is 42 km from the hotel.
Local Tips: A dream location for honeymooners, holiday makers and business executives, the hotel is in a perfect position for visits to the Church of Our Lady of Immaculate Conception, Fort Aguada, and Basilica of Bom Jesus. FACILITIES:Food, drink and entertainment: Bed and Breakfast accommodation. Guests are served a complimentary breakfast each morning and the Verandah restaurant is on the first floor overlooking the street junction serving local and Continental cuisine. Buffet meals are also served on the ground floor of the Hotel. An in house Art Gallery makes for an air of romance and colour.
Additional: Reception area with safe deposit facilities, money exchange, beauty parlour, shopping arcade, doctor on call, conference facilities. The Panjim Inn is proud to be an eco-friendly hotel with a solar water heating and rain-water harvesting facility besides energy saving devices being used wherever feasible.