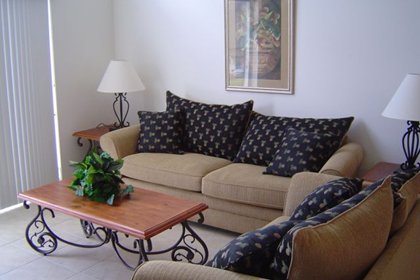 Hotel Overview
Walt Disney World Area Executive Homes (with pool)
 
Enjoy fun in the sun on holiday in the WD world area, Florida by booking your stay at the well-appointed Walt Disney World Area Executive Homes.
 
The Walt Disney World Area Executive Homes (allocation on arrival) are located in the up market residential area of the WD world area .  Just 15 miles south of Orlando city center, this area is a tranquil haven away from the maddening tourist crowd, yet close enough to easily enjoy all of the over 95 unforgettable attractions Orlando has to offer. These contemporary and comfortable one and two storey homes are perfect for family vacations with up to six bedrooms offering modern conveniences and everything you need to make you feel at home - that is if home is a fabulous, spacious house with manicured gardens and a sparkling pool! Guests staying at Walt Disney Executive Homes are surrounded by stately residences, lots of shopping areas, friendly neighbours and Florida sunshine. If you are looking for an unforgettable vacation with all the comforts of home and much more, the Walt Disney Executive Homes are a magical choice!
 
Orlando International Airport is approximately 26 miles from your home.
 
Local Tips: All of the homes are within 20 to 25 minutes drive to Walt Disney World (subject to traffic). Due to the location of the properties it is a great idea to pre-book a car rental in order to take full advantage of all that the area has to offer.


 
Please note the WDW Area Executive Homes with Pool are allocated on arrival.

 
Please Note – Rates are exclusive to UK passport holders only FACILITIES:The facilities at Walt Disney World Area Executive Homes are of a high standard with comfortable accommodation and ultra modern amenities offering everything you need for a fun and relaxing holiday. The executive homes are superior to the standard homes with a better calibre of furniture and additional facilities to the standard homes.
 
Food, drink and entertainment: Each home is fully equipped with a large fridge/freezer, dishwasher, washing machine and dryer, all glassware, crockery, all linens and towels. There are countless restaurants, bars, cafes, and fast food options close to home.
 
Sports, games and activities: The outside area has a furnished patio and swimming pool. The can be heated (with extra charge, payable locally). Pool heating is not available during the months of June through to September. Outside patio is perfect for relaxing in the sun. There is colour Cable TV in the lounge area as well as a DVD or video player. The greater Orlando area boasts over 800 tennis courts and more than 150 golf courses.