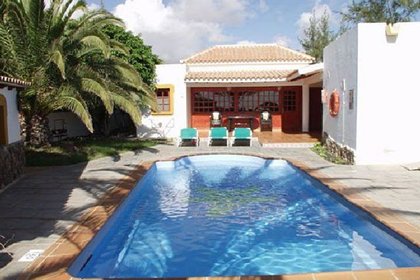 Hotel Overview
Villas Caleta
Enjoy a sun filled value holiday in Fuerteventura by booking at the peaceful and friendly Villas Caleta.
The Villas Caleta offers a great location in the popular resort of Caleta de Fuste on the island paradise of Fuerteventura. Playa de Castillo is just 2 km away and is ideal for practising or learning water sports as well as having the only marina on the island and the first 18-hole golf course. The centre of Caleta de Fuste is just a short distance where there are plenty of restaurants, shops and bars. This is a terrific property for couples and families with villas well equipped with modern amenities and close to a host of activities. If you are looking for an unforgettable holiday the Villas Caleta mean sun, fun, and relaxation!The official rating of these villas is 4 keys.
Fuerteventura Airport is 5 km from the Villas Caleta.
Local Tips: Caleta de Fuste is a perfect holiday destination and a great base from which to explore this superb Island. Go and see the vast dunes of northern Fuerteventura. Explore remote villages or catch a boat to the amazing Isla de Lobos. FACILITIES:The facilities at the Villas Caleta offer everything you need for a fun and relaxing holiday.
Food, drink and entertainment: International Restaurant, 3 pool bars.