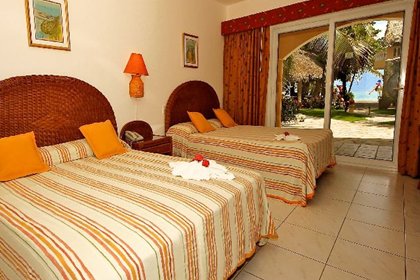 Hotel Overview
The Villa Taina Hotel is a Bed & Breakfast Boutique Hotel located right on the beach in the centre of Cabarete, North Coast of the Dominican Republic. This lively 4 Star resort has everything you need for a fabulous getaway including nightly entertainment, swimming areas, lush gardens, and the coolest night clubs, bars and discotheques of the zone in Cabarete. The facilities at the Villa Taina Hotel ensures total relaxation while being indulged by the warm and friendly staff, and accommodation consists of 57 spacious double rooms leading to the beach with soft white sand, turquoise waters, and nearby adventurous attractions. Puerto Plata Airport is 20 km from the hotel.
Local Tips: The hotel is perfectly positioned for visits to downtown Puerto Plata and Sosua featuring shopping and historic sites, as well as the charming town of Cabarete with shops offering local hand-made art, clothing and jewellery, as well as quaint restaurants nestled on the beach. FACILITIES:Dining: The Hotel is booked as Room Only accommodation with options for Bed and Breakfast and Half Board. Villa Taina Hotel is proud to present the Beach Front Restaurant Serenade with a relaxing beach atmosphere and exquisite cuisine from their International kitchen open to public from 7:30 am to 10:30 pm; Breakfast buffet from 7:30 am to 10:30 am; and the Beach Front bar from 10:00 am to 12:00 am.
Activities: Swimming pool, beach with beach chairs (free of charge), beach towels (at reception), Billiards and Darts (deposit required), Windsurf and Kite Centre with the latest windsurfing and kite surfing equipment as well as board storage facilities. Guests can unwind at the Tranquila Massage Centre with a professional massage therapist. Activities available nearby are horseback riding, surfing, canyoning, catamaran, rafting, hiking and Yoga.
Additional: 24-hour reception, daily maid service, multilingual staff, money exchange at the reception desk, free DVD service, sitting room, reading corner, free Internet access in lobby, 24/7 Internet access in all rooms, Wi-Fi in restaurant/bar and lounge area, room service from 11:00 am to 9:00 pm, open air meeting facility for private events or dinners on the 2nd floor of restaurant (up to 35 persons), airport transfer available upon request, Nanny available upon request.