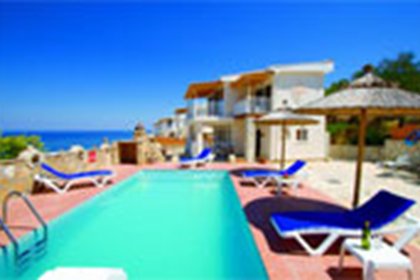 Hotel Overview
A group of brand new luxurious villas set down a quiet track in Tragaki, these beautiful houses enjoy a stunning location with terrific views over the Ionian Sea towards Kefalonia and mainland Greece.
The extremely well equipped villas offer two-bedroom accommodation, apart from the Villa Romi, which has three bedrooms. Each is designed in contemporary open-plan style with a wealth of modern comforts including a private pool, plasma TV, CD, DVD player, stone-built barbecue and a Jacuzzi in the bathroom. The open-plan design accentuates the feeling of glamour and space and all the rooms are stylishly furnished and arranged, from the ultra-modern kitchen to the spacious sitting areas, which are finished with elegant Chesterfield furnishings. For added comfort, the living areas and bedrooms are air-conditioned so they stay cool during balmy weather. The outside of each villa matches the interior standards, with a superb furnished ground-floor terrace and large first-floor balconies perfect for sunbathing and admiring the breathtaking views. The air of privacy is enhanced by landscaped lawns and the lovely backdrop of mature trees, which adds to the sense of rural seclusion.
With the centre of Tragaki nearby and a beautiful beach a stroll away, these exceptional villas are ideal for those seeking sophisticated comforts and total tranquillity.