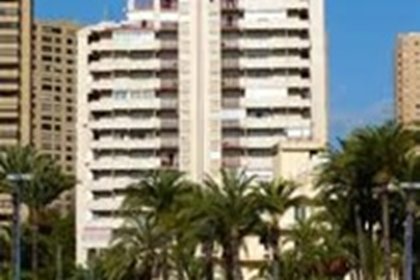 Hotel Overview
The Gemelos Aparments Roulette is a complex of apartments situated on the lively Levante Beach, in Benidorm, Spain. Each building features a lift and a swimming pool, and the apartments come fitted with either one or two bedrooms, a bathroom, kitchen and a living room featuring a comfortable sofa-bed. The apartments feature private balconies, as well as satellite television and a safety deposit box.

The apartments at the Gemelos Aparments Roulette contain everything you'll need to self-cater on your holiday – with a fully equipped kitchen area, as well as a washing machine, sheets and towels. The staffs here are friendly and helpful, and offer a cleaning service for both rooms and linen.

*Certain amenities may be payable locally.*

*Please note: the hotel is not accepting bookings for groups.*

##Location
The Gemelos Aparments Roulette is situated just 500m from the popular Levante Beach, a thriving seafront location at the heart of Benidorm. Here you can enjoy the golden sands and clear blue water, relax in the sun, or have a go at one of the many water sports on offer – the choice is yours!

Alternatively, head into Benidorm itself to explore narrow streets lined with markets, tapas bars, shops and restaurants. Young people and groups will be drawn to the lively nightlife of the town, and there are many great bars and nightclubs, where you can go to dance the night away.

##Accomodation
Key collection at VIAJES BENINTER office (Tel. 34-965868282, Calle Ibiza 6).

Monday - Friday: 09:30 to 13:30 & 16:00 to 19:00
Saturday: 09:30 to 13:30
Sunday: Closed

For arrivals outside office hours, the key collection will be at Hotel Helios, (Tel. 34-965855840, Avenida Filipinas 12).

**Please note: A refundable deposit between €150-250 has to be left upon arrival, per apartment. Check-in is always at Viajes Beninter, with passports, voucher and deposit, even if the keys have been picked up at the Castilla Hotel beforehand. There is no cleaning service (only before arrival and after departure). Satellite TV, Wi-Fi and safety deposit box are available to rent.**

##Eating and Drinking
The beauty of self-catering apartments such as these, is complete freedom to live as you please while on holiday… not to mention excellent value for money! The apartments at Gemelos Aparments Roulette come equipped with a kitchen area, allowing guests to prepare meals for themselves. You'll find a food market within easy walking distance, or alternatively, you can always treat yourself to a meal at one of the many restaurants and cafés in the area.

##Swimming Pools
This property benefits from a shared outdoor pool (open in summer).