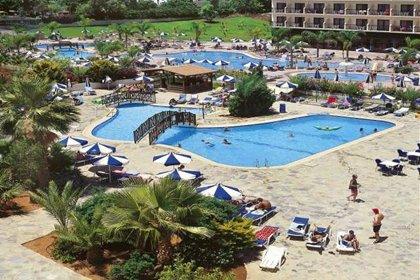 Hotel Overview
 
The lovely island of Cyprus is home to the Tsokkos Garden Hotel Apartments, located between the popular Protaras and Pernera coastal areas. A short walk from the Marlita Bay shingle beach, the Tsokkos Garden Hotel has 86 well-appointed and comfortable apartments with scenic views of the hilltop Saint Elias Church and of Marlita Bay. The affordable self-catering apartments have the advantage of sharing facilities with the neighbouring sister 4 star Tsokkos Gardens Hotel. Couples and families will appreciate being in charge of their budget, enjoying the independence available when they book into the Tsokkos Garden Hotel Apartments.
 
Getting to the hotel: Larnaca and Paphos International Airports serve.
 
Local tips: A number of shops, restaurants and bars are nearby to the apartments. The entire length of the main coastal road in Protaras spans from Paralimni via Protaras into Ayia Napa (about 15km) and is lined with a large pedestrian route that is ideal for walkers and bikers.
  FACILITIES: 
Food, drink and entertainment: Self-catering apartments with options for Half Board and All Inclusive. All meals provided at sister hotel: Tsokkos Gardens Hotel; onsite snack bar, and garden area.
 
Sport, games and activities: Outdoor fresh water swimming pool and large sun terrace.
 
For the kids: Outdoor fresh water swimming pool.
 
Additional: 24 hour Reception Services, housekeeping, currency exchange, safe boxes, 2 lifts (elevators), and free parking.