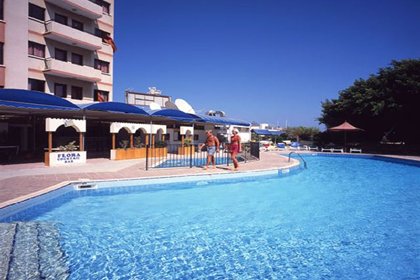 Hotel Overview
 
Tsokkos Flora Hotel Apartments are ideally situated in the centre of Protaras, the popular town on the delightful island of Cyprus. With only 24 1-bedroom and 4 2-bedroom self-catering apartments, the Tsokkos Flora Hotel Apartments are an affordable stay for a fun holiday, where adults and children can enjoy the pool and sun terrace, tennis court and playground. The onsite restaurant is a good option for a break from self-catering, and of course the shops, restaurants and bars are all within easy reach. Be in charge of your budget and holiday when you book into the Tsokkos Flora Hotel Apartments.
 
Getting to the hotel: 56km to Larnaca International Airport; Paphos International Airport also serves (further away).
 
Local tips: The town of Paralimni with its sea resort of Protaras, has long, golden beaches, and the coast of Cape Greco with its unusual rock formations nearby is fascinating.
  FACILITIES: 
Food, drink and entertainment: Main restaurant, pool bar, and lounge area with TV.
 
Sport, games and activities: Outdoor fresh water swimming pool, sun terrace, and tennis court.
 
For the kids: Children's paddle pool, and playground.
 
Additional: Front Desk services, and housekeeping.