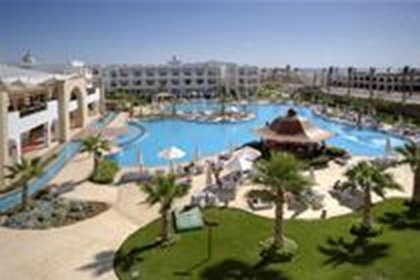 Hotel Overview
Situated in one of Sharm El Sheikh's finest locations in the heart of Montazah, the Tiran Island Hotel is able to offer an outstanding holiday and diving experience in Egypt. The luxurious Tiran Island Hotel features 335 rooms, restaurants, bars, an extensive landscaped outdoor pool and children's pool, a kids club, an amphitheatre and a business centre.
The Tiran Island Hotel is a popular choice for guests different nationalities from all over the world.

The Tiran Island Hotel has its own private beach featuring relaxation facilities. The hotel's beach is under a ten minute walk from the pool, approximately 330 metres away - there is also a shuttle bus every 15 minutes. Other exciting hotel facilities include a multi purpose court, an expert dive centre (at the Melia Sinai) and extensive water sports activities. Views from the resort's balconies extend all the way to the nearby Tiran Island, while the well known dive site of Ras Nasrani is literally metres away from the hotel's beach.

*Certain amenities may be payable locally.*

##Location
The Tiran Island Hotel in Sharm El Sheikh is located at the entrance of the Straits of Tiran, approximately 6 km from the Eastern coast of the peninsular. It is located on the beachfront and boasts its own private beach and dive centre, which is perfect for those of you looking to experience the fantastic marine delights of the coral reef off the Red Sea coast of Egypt. The Tiran Island Hotel is within easy reach of the main resort centre where you can barter in a local bazaar or shop till you drop.

There are plenty of things to do on a holiday at the Tiran Island Hotel; Sharm El Sheikh offers excellent water sport facilities, horse riding, camel rides and desert safaris. Why not venture a bit further on your holiday at the Tiran Island Hotel; Sharm El Sheikh offers a number of trips to Luxor, Cairo and the famous pyramids at Giza. For great evening entertainment on your holiday at the Tiran Island Hotel, Sharm El Sheikh is home to many bars, restaurants, nightclubs and casinos. So what are you waiting for, book your holiday to the Tiran Island Hotel in Egypt today!

##Accomodation
All have - bathroom/shower - WC - air conditioning - balcony/terrace - minibar – safe – satellite TV – telephone – hairdryer - (certain amenities may be payable locally)

**Check-in time**: 2pm
**Check-out time**: latest available is 12pm (noon) - a later check-out is subject to availability and a charge of $5 per hour.

Please note that a visitor's visa may be required if you travel outside the Sinai desert and if you go diving or sightseeing outside Sharm El Sheikh. The visa will cost 10 GBP.



##Single Parent Friendly rooms available
Discounts applicable to one individual adult travelling with one child or more staying in one room. Please note: subject to availability.

- [Click here for more great hotels for single parents.](/special-offers/single-parent-hotels.htm)

- [Click here for single parent holidays with up to 50% off.](/family-holidays/single-parent.htm)
Eating and Drinking

## The hotel's main buffet restaurant is open for breakfast, lunch and dinner and serves international cuisine. There is a relaxing lounge bar - open 24 hours in the hotel lobby leading to the pool terraces and a pool bar that overlooks the beach and serves refreshments. For fine dining with great views choose the Al Bahr Beach Restaurant, situated on the beach. Alternatively try the House of Curry, serving Indian cuisine in an authentically decorated restaurant.
For snacks and light refreshments visit the Oasis Bar. The bar offers a variety of snacks and ice cream. There is also the Piazza Cafe, offering a selection of beverages to enjoy in the evening.

**All Inclusive**

'Let's Eat' - international cuisine buffet style meals including soft drinks, juices, mineral water, tea, coffee and local alcoholic drinks offered per glass.

Breakfast: 7.00 – 10.00
Lunch: 12.30 – 15.00
Dinner: 19.00 – 22.00

Early Breakfast Boxes can be reserved at the reception before 18.00.

Oasis Bar - restaurant serving beverages and late breakfast from 11.00 - 12.00 and snacks from 15.00 - 17.00.

Piazza Café - all inclusive beverages from 11:00 – 23.00.

Pool Bar: Beverages from 11.00 – 18:00 and ice cream from 15.00 - 17.00.
Beach Bar: Beverages from 11.00 – 18.00.
Swimming Pools

## The Tiran Island Hotel has an outdoor lagoon style swimming pool and a children's pool.