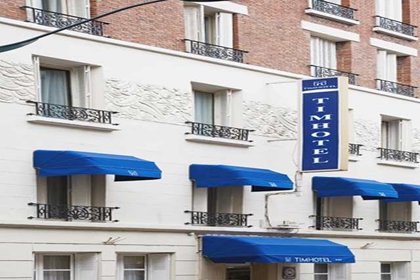 Hotel Overview
3* Timhotel Paris Clichy enjoys a great location on the outskirts of Paris offering guests a more relaxed stay with superb connections into the bustling metropolitan French capital. Positioned in a quieter street in Clichy guests of the lovely Timhotel Paris Clichy are still spoilt with fine dining and shopping opportunities just a few steps of the hotel foyer. Paris' tourist attractions including the Louvre Museum, Arc de Triompe, Champs Elysees and Eiffel Tower are just a metro ride away from the hotel. Offering excellent value for money, services, facilities and comfortable guest accommodation the 3* Timhotel Paris Clichy makes a relaxing familiar hotel for visitors to Paris keen to explore, tour or work in the city. For a great stay in Paris book your stay at the fabulous 3* Timhotel Paris Clichy today.
Getting to the hotel:  Mairie de Clichy metro station is just a short walk from the hotel. Porte de Clichy railway station is under 10mins from the hotel and easily accessible. Paris' airports are also easily accessed to/from the hotel via great metro, rail and road networks.
Local tips: no visit to Paris would be complete without a complete tour of the Majestic Notre Dame Cathedral, with Gothic Towers and magnificent feats of architecture. Parisians are rightly proud of her presence in the centre of things and to top it off the view from the top of the towers is amazing, with all of Paris laid out before you. Ask staff at reception for further details, directions and local guidance.
Please note: A city tax of 1.10 euros per person per night is payable locally directly to the hotel on arrival.
  FACILITIES:Dining: a hearty breakfast buffet is offered daily featuring well sourced, well prepared produce, baked goods, fruits, beverages and cereals.
Additional: 24hr reception, currency exchange services, safety deposit box (reception), housekeeping, maid services, tourist information services, concierge services, complimentary Wi-Fi internet access, newspapers (reception), parking, laundry services, wake up call services, business services including postal, fax, copying and message services. Some services will incur local charges.