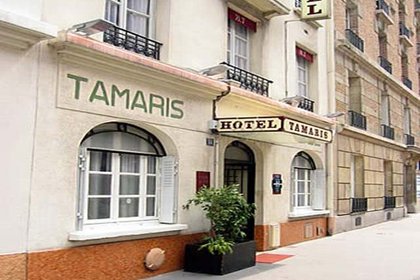 Hotel Overview
The Tamaris Hotel enjoys a great location in the 20th arrondissement within walking distance to a Metro line station offering easy access to the centre of Paris with all its attractions, shopping, lively cafes, bars, fine restaurants and nightly entertainment to suit a wide range of tastes and budgets. Close by guests can visit the Porte de Vincennes, Parc Floral and Place de la Nation. Offering value for money, recently renovated and revamped accommodation and a warm Parisian welcome the Tamaris Hotel is ideally suited to visitors seeking a comfortable base from which to explore, tour, shop and work in and around Paris. For a good deal and a memorable stay in Paris book your next stay at the Tamaris.
Local tips: avoid the use of taxis in the morning before 11am and between the hours of 4pm and 8pm as the roads of Paris are notorious for being blocked during these hours. The Metro is a fabulous way to tour the city. Ask staff at reception for metro maps and local knowledge. FACILITIES:Food, drink and entertainment: continental breakfast is served daily featuring well sourced produce. Paris obviously boasts a wealth of fine cafes and restaurants, lively bars and nightly entertainment to suit all manner of tastes and budgets.
Sports, games and activities: Paris enjoys a wide range of sporting venues, facilities and amenities available for hire from tennis to horse riding and golf, ask staff at reception for further information and local guidance.
Additional: 24hr reception, housekeeping, maid service, internet access, multi lingual staff, parking nearby, air conditioning, heating, tourist information/guest relations services.