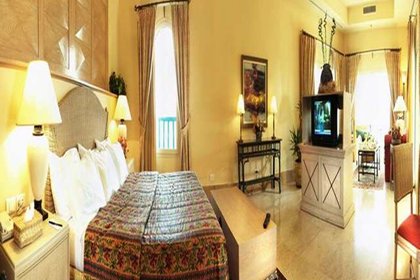 Hotel Overview
The Taba Heights Marriott Beach Resort is situated in over 44-acres of lush gardens, pools, and waterfalls, with over 5,000-square metres of pristine, private sandy beach, rich in snorkeling and diving. Natural beauty surrounds this resort with the dramatic Sinai mountains towering behind and gorgeous golden sands to the front. The combination of the fantastic full health-club & spa and the spectacular location means guests can immerse themselves in their own senses whilst doing things at their own pace.
 
Please note Rates and conditions are not available to residents and passport holders of the following countries: Saudi Arabia, Kuwait, Qatar, Bahrain, Oman, Iraq, U.A.E, Egypt, Lebanon, Jordan, Syria, Libya, Morocco, Tunisia and Algeria.
As a precaution the Governor has limited the permissions for transfers from SSH to Taba and they only operate during daytime. No transfers after sunset. FACILITIES:Taba Heights Marriott Beach Resort features: lagoon pool with bridges and waterfalls, islands and caves, grotto pool bar situated in a cave with seats in the pool, sun terrace and gardens around the pool area, restaurants, bars, the Spa with full health club including Jacuzzi and Arabian marble steam room, sauna, small well equipped gym, 2 tennis courts, pool table and table tennis, video games, 18-hole championship golf course, beauty salon, barber, bookstore, pharmacy, florist, currency exchange, laundry service, babysitting service (local charge), business centre and meeting facilities.
Restaurants and Bars: international variety buffets for breakfast and dinner at 'Al Andalus', barbecues at the Beach Bar, middle eastern cuisine and evening entertainment at the Grotto Bar & Grill, eclectic choices at lunch and dinner in the Regatta Club, and a la carte Italian at Ristorante Tuscany.
Three times per week, guests booked on Half-Board, Full-Board or All Inclusive at Hyatt Regency Taba Heights, Sofitel Taba Heights, Taba Heights Marriott Beach or the Intercontinental Taba Heights Resort will be entitled to choose in which hotel they want to dine.  There will be no additional charge on the buffet meal (Drinks to be paid on the spot)  reservations to be made 1 day in advance on a first come first served basis.
A La carte incentive. Three times per week,  when ordering a main course at Breeze, Asiatic, Tuscany, El Mar, Pub Tandoor, El Fuego, Birds Nest, Chez Pascal or Flying carpets A La Carte restaurants, either the starter or the dessert will be "on the house" reservations to be made 1 day prior (A La Carte restaurants are at extra charge).