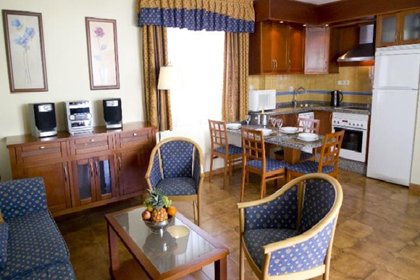 Hotel Overview
The Sunset Harbour Club is located on the outskirts of cosmopolitan Playa De Las Americas. This traditional style Andalusian pueblo blanco complex is surrounded by elegant parks and gardens and offers a relaxed atmosphere along with excellently designed interiors and 124 beautifully furnished apartments with ultra modern amenities. Guests to the Sunset Harbour Club can relax on marvellous beaches and explore countless attractions such as Aqualand in Las Americas and Tenerife's Zoo and Jungle Park, or just stay put and enjoy the huge range of facilities available in the Resort. For an unforgettable holiday, the Sunset Harbour Club is an ideal value choice! Reina Sofia International Airport (south) is 20 km from the Beach Club.
 
Local Tips: Tenerife's excellent climate, the proximity, diversity and quality of its golf courses, and its competitive prices are a great attraction for golf lovers who want to enjoy a holiday in the Canary Islands.
 
Upon arrival guests are required to present photo ID, a passport or government ID card. A valid credit/debit card will also be required to provide a €100 security deposit for each apartment. Guests who are unable to provide the security deposit may be refused entry to the apartment. FACILITIES:The facilities at the Sunset Harbour Club are of the highest standard with excellently maintained gardens and accommodation offering everything you need for a relaxing holiday.
Food, drink and entertainment: Self catering apartments with full kitchen facilities, supermarket and take aways onsite. The resort has a Pool Bar and the 44 Regent Street restaurant offering the perfect setting to enjoy breakfast, lunch or dinner on-site.
 
Sports, games and activities: Beautiful free-form pool, solarium, whirlpool, table tennis, movie rentals, pool table playground, bike rentals, moped rentals.
 
Additional: 24-hour reception, concierge assistance, currency exchange, telephone, car rental, grocery store, laundry, medical facilities, book library, Internet kiosk, Wireless Internet Access is available in public areas and charges are applicable, various excursions, coin operated washer and dryer, apartment safe hire. Disabled friendly units are on the ground floor but must be requested directly with the resort in advance.