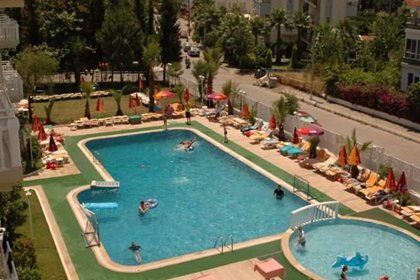 Hotel Overview
Sundream Apartments is in the Armutalan area of Marmaris, located on the south-west Mediterranean coast. The bright pleasant accommodation is popular with guests who enjoy combining the Sundream's relaxing pool and garden area with the livelier entertainment and beaches of the port city and Marmaris, which is less than 2 km away. A good place to enjoy the holiday sunshine with family or friends in a warm and friendly atmosphere and lovely Mediterranean surroundings – book the Sundream Apartments for a well deserved holiday in the sun! Getting to the hotel: About 90 km from the airport - Local Tips: From the complex it is only 50 metres to the local restaurants and shopping facilities. Marmaris is great for shopping and lively restaurants, cafes and bars.
Please Note – Rates are not valid for Turkish passport holders. FACILITIES:This is a pretty environment to kick back and relax in, either around the pool or in the garden. Food, drink and entertainment: There is a restaurant and a pool bar offering a selection of food and drinks and occasional evening entertainment.
 
Sport, games and activities: Swimming pool with a sun terrace and gardens with parasols and loungers, pool table, table tennis, video games.
 
For the kids: A section of the swimming pool is for children. Additional: 24 hour Reception, house-keeping, and internet access. Please note some facilities are payable locally.