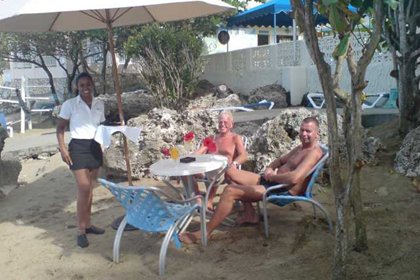 Hotel Overview
Sosua by the Sea Boutique Beach Resort has a beautiful setting in the heart of Sosua town on the Dominican Republic, gracing a fabulous beach and ocean. Situated on the northern coast of the Dominican Republic, the Sosua by the Sea Boutique Beach Resort offers an All Inclusive package, has 91 inviting studios and suites giving access to a good restaurant and 2 bars, sparkling swimming pool and sun-drenched terrace and grounds, and facilities for exercise and socialising nearby. The focus is on relaxing and unwinding, soaking-up the sun and enjoying the onsite and external fun activities and nearby facilities for shopping and entertainment. Book into the Sosua by the Sea Boutique Beach Resort and experience a Caribbean holiday on the Dominican Republic.
Getting to the hotel: 10 minutes away from Puerto Plata's International Gregorio Luperon Airport.
Local tips: 20 kms east of the vibrant town of Puerto Plata and a 5-minute walk to local shopping, restaurants and nightlife etc. FACILITIES:Food, drink and entertainment: Main buffet-style restaurant for breakfast, lunch and dinner, main bar, pool bar, BBQ grills, Manager's party once a week (4-5pm).
Sport, games and activities: 2 swimming pools with waterfalls, sun terraces & garden, loungers & parasols, spa tub and fitness facilities, pool table, private beach; access to external activities including: canyoning, cascading, golf, scuba diving, snorkelling, hiking, horse riding, kayaking, kite-board, motorcycling, mountain biking, paragliding, river rafting, surfing, whale-watching and windsurfing.
For the kids: Children's paddling pool.
Additional: 24 hour Front Desk, housekeeping, multilingual staff, porter/bellhop, 24 hour Doctor on call, air-conditioning, tour desk, 24 hour message service, 24 hour taxi service, internet centre, business services, laundry service, fax & telephone service, mail facilities, wedding packages, beauty and massage salon, gift shop, parking & self-parking; some facilities may incur a charge.