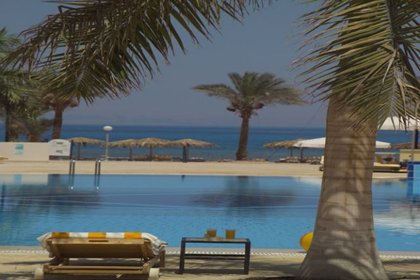 Hotel Overview
The Sol Taba Red Sea is located on the beach amidst the natural and legendary beauty of the Red Sea. This 5-star resort is known for its spectacular views, unforgettable sunsets, colourful mountains and world-class diving. By day guests can relax at the pool or beach and, at night they can enjoy an enchanting evening in an original Bedouin tent under the stars in the Sinai Desert. The hotel overlooks the Red Sea and South Sinai's desert and mountains directly located on the Gulf of Aquaba between Egypt, Jordan and Israel. There is fabulous Health Club onsite, a Dive Centre, a comprehensive children's activity programme and some superb dining options at the hotel. The Sonesta Beach Resort really is a top end holiday option for all the family so book it and sit back and relax in style.
Getting to the hotel: The hotel is just 60 km drive from Taba International Airport.
Local tips: Perfectly located, 48 km from Eilat, 200 km from Sharm El Sheikh and 430 km from Cairo.
Please note: Rates and conditions are not valid for Egyptian passport holders.
As a precaution the Governor has limited the permissions for transfers from SSH to Taba and they only operate during daytime. No transfers after sunset.
  FACILITIES:Food, drink and entertainment: 5 restaurants serving International, Egyptian, Italian, sea food and oriental cuisine, a bistro, piano bar with live music and a disco/nightclub.
Sports, games and activities: 2 fresh-water swimming pools (1 heated in winter), private beach, 2 tennis courts, beach volley ball, Health Club (with sauna, steam bath, 2 Jacuzzis, fitness room and massage treatments, extra charge), Diving Centre (SCUBA and snorkeling with equipment rental and training), Recreation Centre (variety of activities including sea and desert excursions),
For the kids: Just Us Kids programme (ages 5-12), and a children's pool.
Additional: Full Front Desk service, 24-hour room service, laundry and valet, hair salon, shops, internet access and car rental.