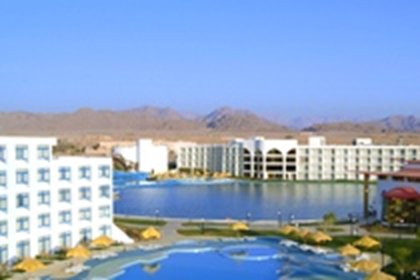 Hotel Overview
Part of complex of three 5* standard hotels in the heart of the Sharm El Sheikh resort; the Sol Y Mar Riva Mar has its own distinctive character and style for a memorable holiday experience. The hotel has a warm, colourful and welcoming atmosphere with unique features and there is a range of bright and spacious accommodation to stay in with choices including suites and family rooms and the hotel features a good selection of facilities that includes a heated outdoor swimming pool and a great animation program provided by the multilingual staff, with a wide range of activities and video games for the kids as well as their own swimming pool to keep them safe and entertained during your stay. For more adult pursuits in the evening you could always dance to the latest tracks in the hotel's late night club or for all the family you can take advantage of the bowling at the nearby Riva Club hotel. For staying on business or looking to organise important meetings or events you will find that you are well catered for as the resort boasts 4 well equipped conference rooms that can be used for a variety of purposes from small personal meetings to large scale celebrations and demonstrations.
Guests staying at the Sol Y Mar hotel also have the benefit of being able to use all the luxurious facilities that the resort offers, which includes the fabulous Tranquillity Spa centre that features 17 treatment rooms with a wide range of Thalassotherapy treatments, massages and facial care as well as saunas and Jacuzzi. Other great facilities at the resort include the tennis and squash courts, volleyball and basketball courts as well as theatre and cinema complexes all at the resort for guests to enjoy.

The Nabq Bay area of the Sharm El Sheikh offers much to do and see while staying at the hotel, if you are looking for plenty of shops and restaurants to explore or enjoy the vibrant nightlife of the area then you will find the downtown of Naama Bay just 15 minutes away is well worth a visit. The resort also benefits from a private sandy beach next to the large lake in the Nabq Bay reserve where you can try one of the many water sport activities on offer including SCUBA diving that is exclusive to guests staying at the resort. Other interesting locations to visit during your stay at the resort include Rehana Beach and Jackson Reef along with the Montazah beach that all make great alternatives to the private beach at the hotel and let you explore more of what the area has to offer.

##Accomodation
This luxury hotel features an impressive number of rooms with 117 in total, which includes 12 suites, 10 family rooms with connecting doors and 28 honeymoon rooms. All the rooms come with either twin beds or king size beds and there are also rooms available for disabled guests if requested. In each of the rooms you can find a great range of amenities that you would expect from a hotel of its class including air conditioning, a balcony or terrace, international direct telephone, satellite TV, mini-bar (local charge), personal safe and a full bathroom with hairdryer.
Room service is also available 24 hours a day for extra charge and the more luxurious suites also feature Jacuzzi's.

Please note that a visitor's visa may be required if you travel outside the Sinai desert and if you go diving or sightseeing outside Sharm El Sheikh. The visa will approximately cost 10 GBP.

##Eating and Drinking
The hotel's main restaurant is the Full Moon where you can enjoy a great range of local and international cuisine and there are also 2 bars that with the Moon Shine bar and the pool bar Moon Pool Bar that both offer great places to sit down and relax either inside or outside by the pool and enjoy a refreshing juice or exotic cocktail.

At the resort you can find a good variety of specialty restaurants to tempt you that are shared between the other hotels at the resort.
The Asia Pagoda you will find is a specialist restaurant that serves a delicious range of Thai, Japanese and Chinese sushi dishes. Other restaurants include the Venezia featuring superb views while enjoying a great range of Italian cuisine or you could try the Cowboys for real Tex Mex food with everything from nachos to steaks complete with line dancing to boot. Lastly there is The Pearl a beach-front fresh seafood restaurant in a unique setting surrounded by water.

**All Inclusive**
The all-Inclusive service starts at 10.00 & ends at midnight. The All-inclusive program will end on the check out day at 12.oo noon. Water, soft & local alcoholic drinks are served by glass. Wine is not served at pool and beach bars.

MAIN RESTAURANTS

• FULL MOON – MAIN RESTAURANT – BUFFET FORMULA
Breakfast: 07.00 – 10.30
Lunch: 13.00 – 15.00
Dinner: 19.00 – 22.00

A LA CARTE RESTAURANTS

• MONET LE JARDIN French Restaurant 19.00 – 22.00 (located in the Lobby)

• ASIA PAGODA – Gorgeous Far East Cuisine 19.00 – 22.00 (located on the Lake
Promenade)
• CADILLAC – American Cuisine 19.00 – 22.00 (located at the upper Lobby of Riva Club Hotel)
• THE PEARL – Seafood restaurant 19.00 – 22.00 (located at the Beach)
Please note that these 4 a'la carte restaurants are not included in your all-inclusive package. Please reserve one day in advance at the Guest Relations Desk.

BARS
• MOON SHINE LOBBY BAR 10.00 – 00.00
• POOL SNACKS BAR 10.00 – sunset (food service till 17.00)

• BEACH SNACK BAR: 10.00 – sunset ( food service till 17.00)

ENTERTAINMENT (located at Riva Beach hotel)
• BOWLING 12.00 – 00.00 extra charge
•BILLIARDS & SNOOKER 12.00 – 00.00 extra charge

DRESS CODE:
Kindly be informed that swimming suites & slippers are not permitted in the Lobby. Shorts & sleeveless shirts are not permitted during dinner in all restaurants

OTHER SERVICES
ANIMATION & SPORT ACTIVITIES
• Beach volley, aqua gym, aerobic, water polo, boccia, dart,
• The complete day & evening program is displayed on the animation boards.
• Fitness Room: open daily from 08.00 till 13.00 & from 14.00 till 20.00 (located at Riva Beach)
KIDS CLUB
• Open daily. Located near Riva Club Hotel's pool for kids aged between 4 -12 years old. Please follow the playground safety rules, which is available at the playground entrance
POOL/BEACH TOWEL SERVICE
• Opening hours: 08.00 – sunset. Kindly be informed that it is not allowed to reserve sun beds. In case of lost towels or towels cards the amount of 75.Le will be charged to your personal account. Please hand over the towel card upon check out to the front desk.
SAFE BOX
• Safe box is available in your room, free of charge. The hotel is not responsible for any valuable left unattended. The safe can be programmed, to open and close.
ICE CREAMS
• Ice creams are all inclusive and are served at the pool & beach Bar from 15.00 to 17.00

SERVICES OUT OF THE ALL –INCLUSIVE PACKAGE (AGAINST CHARGE)
• All drinks, included water, requested by bottles.
• Fresh juices
• Mini Bar
• Room Service
• A'la carte restaurants
• Laundry Service
• Disco ( only entrance free, consumptions against charge)
• Bowling
• Billiard & snooker
• Medical Service ( available 24hr through the reception desk)
• Tennis Court (floodlight & rackets)
• Tranquillity Spa
• Internet
• Telephone calls

TRANQUILITY SPA
• Spa 09.00 – 21.00
• Fitness Room 08.00 – 20.00
Children under 16 years old are not permitted

##Swimming Pools
The hotel and resort features 2 swimming pools, with the main pool being heated during winter along with a separate pool for children.