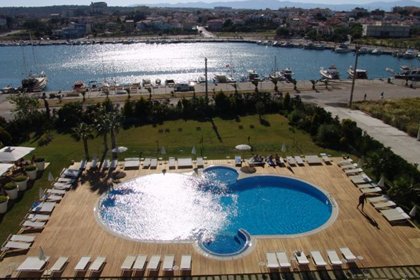 Hotel Overview
Sisus Hotel
Enjoy a sun filled holiday in Cesme by booking your stay at the comfortable and friendly Sisus Hotel.
The Sisus Hotel is located in the popular summer resort of Cesme on the coast of Turkey. This is a great hotel for couples and families with the dazzling Kocakari Beach and a wide range of shops and restaurants within walking distance of the hotel and 51 attractive rooms and suites with modern amenities. Guests to the Sisus Hotel can discover marvellous beaches, explore the delightful villages nearby and experience real Turkish hospitality. For an affordable holiday in Cesme, the Sisus Hotel is a perfect choice!
Adnan Menderes (Izmir) Airport is 110 km from the hotel.
Local Tips: The main square in Cesme has restaurants, cafes, tea houses, and nice sunset views of the Aegean Sea. Cesmes small fortress, now nicely restored as the local museum, looms over the square and provides a nice big dose of history and architectural character.