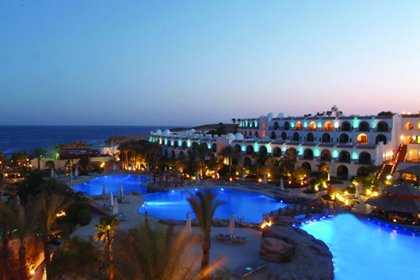 Hotel Overview
The extensive Savoy Sharm El Sheikh is a 5-star luxury resort overlooking a sandy beach on the shores of the Red Sea at one of Egypt's most popular destinations. Located in SOHO square with its bazaars, shops and restaurants, the resort has easy access to the sea and its own extensive onsite facilities. These include multiple bars and restaurants, entertainment programmes and organised activities. The rooms are stylishly decorated and guests can enjoy cuisines from around the world, as well as some of the best snorkelling and diving sites in the region.
International airport is 5 miles from hotel.
Local tip: For holidaymakers not seeking to explore the depths of the Red Sea a visit to the Bermuda championship golf course offers a superb diversion only 5km away from the hotel.
Please note: Rates and conditions are not valid for passport holders of the following countries: Egypt, Algeria, Iran, Iraq, Israel, Jordan, Lebanon, Libya, Morocco, Tunisia, Turkey, Yemen, Bahrain, Kuwait, Oman, Qatar, Saudi Arabia and UAE.
Please be advised that the hotel offers two types of all inclusive programmes; the E Class value all inclusive (a limited version of the S Class), and the S Class Ultra All inclusive (an upgraded version of the E Class). The All Inclusive currently shown below is the E Class. Upon booking, the E Class will be the default option. If you would like to book the S Class, an extra charge will have to be paid for this on top of the booking. FACILITIES:Six onsite restaurants serve a range of different gourmet cuisines from Mediterranean, American, Italian and Asian classic recipes, and the five bars feature live music and water pipes.SOHO square is home to numerous entertainment venues as well as cafés and restaurants, and the resort also has a games room, large outdoor pool with sun terrace, sauna rooms and massage services. The many activities include bowling and darts, windsurfing and mini-golf, as well as a range of water-based sports. The Aqua Spa & Wellness Centre is especially popular with guests, who can enjoy a choice of beauty treatments including Ayurvedic massages.  
Entertainment includes Ice skating from 15:00-00:00, Culturama;showing the glourious age of the Pharaohs (2 shows daily). All evening entertainment is offered at Soho Square. Please note-clients can drink as part as their fully inclusive programme at the Queen Victoria pub (wine & beer) only.
Please note: Dress code policy for the Gala Dinner in the Egypt Hall is black tie. Lounge suits are acceptable however guests without a minimum dress code of jacket & tie will not be able to attend. New Year's Eve Gala Dinner for all children under 12 will be provided free of charge in the Fayrouz Room. A supplement payable locally will be charged for children to attend the addult Gala Dinner.
Sports, games & activities: 3 outdoor swimming pools featuring state of the art underwater music & creative rock formations, 300m of private beach, loungers, towels and parasols. Fully equipped gym with onsite personal trainer, dive centre, snorkelling & watersports centre. Spa, fitness room, sauna, steam room, Jacuzzi, beauty & theraputic treatment rooms, 4 floodlit tennis courts, 2 air-conditioned squash courts, aerobica, billiards & gardens, sandy beach is a few minutes walk away
For the kids: 2 kids swimming pool, kids club, playground & organised activities. New Year's Eve Party for children is free for the Family Party only. Children attending the party in the Egyptian Hall will be charged full price.
Additional: 24hr reception, concierge service, full housekeeping service, secretarial/business facilities, shopping arcade, beauty salon/hairdresser, babysitting service, laundry/dry cleaning.