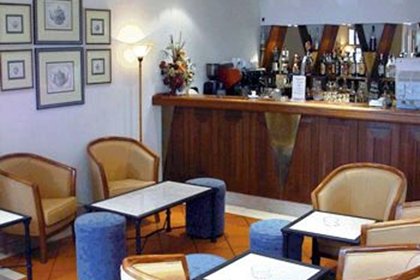 Hotel Overview
The Santa Catarina hotel was built in 1996, typical madeirian architecture, on the exact site of an ancient sugar cane mill called commonly known as Engenho. Some of the original features have been preserved becoming prominent in the interior design of the hotel. Its through theses picturesque features, which provide the hotel with its unique ambiance.

For those who appreciate tranquillity, nature and Madeirian cultural events, the Santa Catarina hotel offers you an unforgettable welcoming and very cosy atmosphere, with an excellent team of friendly and very dedicated stall members to make your holiday very relaxing and pleasant.



The Santa Catarina hotel is located in the heart of a small town, Santa Cruz, less than 2 minutes drive from the International airport of Madeira known before as Santa Catarina airport and 15 minutes from Funchal.

Being a typical city hotel, one can take advantage of the towns shopping centres, its beautiful and well cared public gardens, esplanades, coffee shops, restaurants and bars, the aqua park only one on the island, swimming facilities, the promenade that accompanies the towns sea front and more, much more.

The bus stop for public transportation is less than 50 meters from the hotel and on the opposite side of the bus stop one can take a glimpse of the grandiosity, 450 year old church. Two pharmacies, a health centre, supermarkets, taxi service, rent-a-car, banks, various ATM points, post office, all a step away from your convenience.

The rooms are distributed by the hotels four floors in a light, cosy, beige toned decoration.