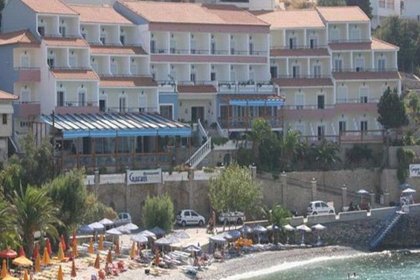 Hotel Overview
Samos Bay Hotel is built in the style of an amphitheater on the most beautiful inlet on the Gagou beach. The hotel offers a unique view of the sea from its 70 rooms. It is the perfect base for anyone who wants quick and easy access to all the island's villages, beaches and sites. Samos Marina is 500m from the hotel and the Harbour is 2km. The beach is 5m from the hotel.
Getting to the hotel: The hotel is only 16km from the airport -
Local Tips: This region has splendid local historical sights and natural wonders to visit if you want to stretch your legs.
Official Rating: 3* FACILITIES:Food, drink and entertainment: Glafkos restaurant with Greek and International dishes and the best wines of Samos in a pleasant environment with great views. A cafeteria-bar, for drinks and light meals on the balcony.
Excursions:
While you are staying in Samos you should visit the Paleontology, the Archaeological and Folklore museums on the island where you can discover the history of Samos from pre-historic times up until the present day and the Wine Museum run by the Union of Vinicultural Cooperatives of Samos which produce the famous sweet Muscat wine! Don't miss out on your tour of the villages of Samos. There are 36 villages in total and their history, architecture and setting give them a unique beauty. In addition to this, the 8 active monasteries on the island are another important attraction as they offer significant sacred artifacts, murals and beautiful architecture.
Additional: 24-hour Reception, car rental, arrangement of excursions – booking tickets, room service, laundry, ironing, safe box, wireless internet, taxi service, and house-keeping.