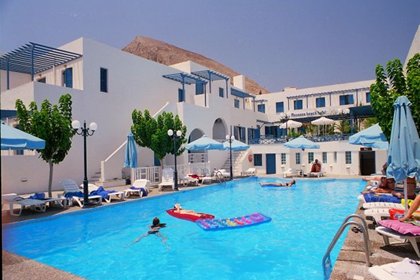 Hotel Overview
Roussos Beach Hotel
 
Enjoy a sun filled holiday in Santorini by booking your stay at the attractive and comfortable Roussos Beach Hotel.
 
The Roussos Beach Hotel is located in the popular resort of Kamari on east side of the island paradise of Santorini. Situated right on the beautiful black beach, this hotel is a great property for couples and families and features 38 guestrooms well equipped with modern amenities. The hotel is close to a wide range of shops  , bars and local and international Restaurants and easy reach to visit around the island to see the villages and experience the most beautiful sunsets imaginable overlooking the volcano and the nearby islands .
 
Please note: Due to the location of this property it is not suitable for guests with wheelchairs.
 
Monolithos Airport is 4 km from the hotel.
 
Local Tips: As the night falls take a stroll along the coastal road and have a romantic dinner by the sea with a glass of your favourite wine and the sounds of relaxing music. Continue your night dancing in a club listening to Greek and International hit songs.
  FACILITIES:The facilities at the Roussos Beach Hotel offer everything you need for a relaxing holiday.
Food, drink and entertainment: Breakfast room, Restaurant, pool side snack bar, lobby bar and lounge. Guests should note that the Half Board option is actually served at the Atmosphere Lounge Restaurant.
Sports, games and activities: Outdoor swimming pool, reclining chairs, umbrellas, TV lounge, sun terrace.
Additional: 24 Hour Reception, airport transfer, excursion bookings and fax services,
For those guests who have pre-booked ?Dine Around Supplement?, this can be taken from 12.00 hrs to 23.00 hrs, as either lunch or dinner at the fabulous Atmosphere Lounge Restaurant, which is conveniently located above the Kamari Tours offices in the beach front, occupying one of the best sea view locations in Kamari Village.The Atmosphere veranda overlooks the sea and has amazing moonlight views under the stars. The meal consists of menu choice comprising four courses (1. bread and dips to share, 2. starter or salad, 3. main course and 4. dessert (sweet or fruits or ice cream).