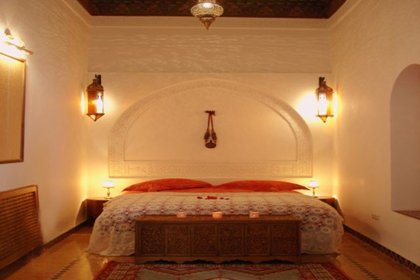 Hotel Overview
The Riad Dar Alhambra is ideally located in a magnificent setting full of splendour within the walls of the Medina, in the Kasbah district, next to the madrasas Ben Youssef and souks in the exotic city of Marrakech. Just a few minutes' walk from the square Jamaa el Fna, palaces and museums, this 16th century building has been lovingly and discreetly restored in pure Moroccan tradition to present a luxurious 4 Star base for couples and families with leisure facilities and activities, delicious dining, and 6 attractive guestrooms with modern amenities. Guests to the Riad Dar Alhambra can explore all the famous attractions and delightful villages nearby and experience real Moroccan hospitality.
 
Getting to the Hotel: Marrakesh Airport is 4 km from the hotel and airport transfer is available on request with charge.
 
Local Tips: The hotel is in a perfect position to explore Jemaa El Fna Square, the Koutoubia Mosque, the city's monuments, and only a few minutes away from the new city and its trendy shops.
 
Please note rates and conditions are not available to residents of the following countries: Saudi Arabia, Kuwait, Qatar, Bahrain, Oman, Iraq, U.A.E, Egypt, Lebanon, Jordan, Syria, Libya, Morocco, Tunisia and Algeria.Please note there is a local tax of 11 to 49 Dh per pax/night ( amount might varies) to be paid locally to the hotel. FACILITIES:Dining: This 4 Star hotel is booked as Bed and Breakfast accommodation. Meals and aperitifs can be served when and where you desire (on request) for instance in your bedroom, in the open sitting rooms, in the Moroccan drawing-room, in the dining room, on the terrace in the sun or under the stars! The rooftop terrace offers splendid views of the Koutoubia, the high Atlas Mountains, and superb sunsets - as well as privileged dining and sun bathing! A traditional Andalusian style guitarist and/or Gnaoua musicians can be invited to perform in the Riad.
 
Activities: The hotel has a traditional Moroccan Hammam that you can reserve. Massage and beauty treatment are also available on request. Life circulates around the cool, central, marble floored patio with an antique fountain in its centre. Next to the patio are two delightful 'B'hou' (small, open sitting-rooms), and the traditional, sumptuously decorated Moroccan drawing-room - painted cedar ceiling, red tadelakt and a large ornamental fireplace.
 
Additional: 24-hour reception, visits to the Atlantic ocean, to the mountains or to the desert can be arranged at your convenience - each possible within one day! The friendly staff can also make restaurant, horse carriage and taxi reservations. Airport pick-up service available on request with charge, high speed Internet, telephone and fax are available in the office, Visa credit-card payment available.