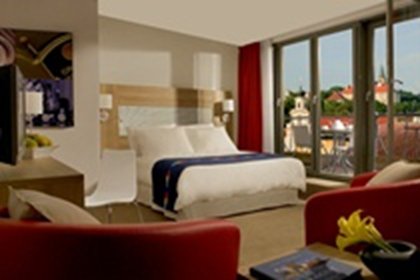 Hotel Overview
This luxurious hotel located in the centre of Prague is housed in a 1907 building and a stunning testament to Art Deco design. The hotel is surrounded by medieval buildings and ancient courtyards with cobblestone streets.

The hotel has modern, contemporary facilities providing the latest in technology for your corporate events or your business stay. The complex is stylish and bursting in luxury and with high-class services and expert, professional, multilingual staff.

The hotel is a short tram ride to the historical city centre of Prague and just steps away from Vltava River and Vysehrad Castle, among many other important and beautiful attractions.

The hotel offers complimentary use of its Fitness Centre and a shuttle to some of the most important business locations which you can take advantage of.

Book a stay at this Park Inn hotel and enjoy an ideal Prague vacation near to the best that the city has to offer.

##Accomodation
The hotel has a total of 210 guestrooms to suit all accommodation needs. Guestrooms vary from standard rooms, business rooms and executive rooms to one bedroom suites, junior suites and executive suites.

All rooms are modern, spacious and tastefully decorated with neutral colours and they are equipped with: coffee and tea making facilities, mini bar, hair dryer, individual climate control air-conditioning, high-speed internet, direct dial telephone with voice mail, flat-screen LCD television with satellite and on demand movies, free access to the fitness centre, in-room service, desk, luxury bathroom with shower and/or bath and state-of-the-art equipment.

In addition to all the features and facilities mentioned above; the following rooms and suites also include:
• Business rooms: messaging service and warm, classic wooden tones.
• Executive rooms: large terrace, bathrobe, slippers, bottled water, fruit basket and top floor.
• One bedroom suite: more spacious than rooms, large terrace, bathrobe, slippers, bottled water, fruit basket, top floor, free parking, living area and, as it names says it, a separate bedroom.
• Junior and Executive suites: ideal to accommodate families or for longer stays; includes all the extras of the 'one bedroom suite' but they are more spacious and bigger.

##Eating and Drinking
The hotel has a restaurant and bar; the RGB Bar & Grill with a capacity for up to 120 guests. The restaurant serves a wide option of dishes (hot or cold) from steaks, gourmet burgers, light bites, salads, soups and grills to local dishes and desserts. The restaurant serves a buffet breakfast or, if you prefer, from the menu.

The restaurant opens from 11.30am until 10.00pm daily for lunch and dinner and for breakfast opens from 6.30am until 10.30am (Monday-Friday) and 7.00am until 11.00am (Saturday and Sunday).

##Swimming Pools
The hotel does not have a swimming pool.