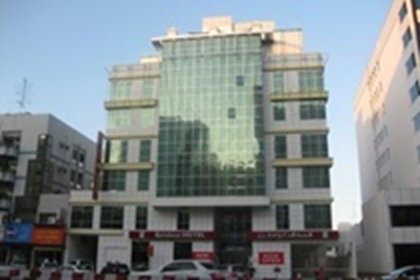 Hotel Overview
The Rainbow Hotel occupies a central location in the heart of Bur Dubai, within easy reach of the Indian Bazaar, the famous Dubai Creek, the Dubai Museum and some of the city's top shopping malls like Burjuman Centre, Khaleej Centre, Computer Street, etc. The Rainbow is also just a 10-minutes drive from Dubai International Airport and 5 minute drive from the Dubai World Trade Centre.

There are a total of 40 guestrooms and suites at the Hotel Rainbow and all of the rooms are neatly furnished, well-decorated and feature a range of modern amenities including satellite television, wireless internet and direct dial telephone systems. Leisure facilities at the Rainbow Hotel include a roof top swimming pool and a professional gym and sauna. The hotel also features its own coffee shop serving a variety of snacks and refreshments or you can choose to dine in the famous Rainbow Steak House, a popular fine dining restaurant.

##Location
Location and Resort
Dubai, the fast paced, fast growing city well known for its lavish hotels and resorts, it's now hard to believe that Dubai was nothing more than a dessert landscape just short of 25 years ago. Dubai is now a modern metropolis of impressive buildings, tourist attractions, and stunning manmade islands.

The Rainbow Hotel Dubai is located in the historical quarter of Bur Dubai, facing Deira on the other side of the Dubai Creek; this neighbourhood is home to some truly beautiful sights and tourist attractions. At the northern tip of the creekside walkway are the Sheikh Saeed House the official residence of past rulers, now open to the public, and the Heritage Diving Village – Take a water taxi from the nearby Al Seed Road area across the creek to Deira. Creekside Park is one of the most beautiful areas in the city, and is one of the city's best walking areas; Creek Side Park is lined with waterfront pathways.

##Accomodation
All have - bathroom/shower – WC – satellite TV - telephone - air conditioning – internet services - (certain amenities may be payable locally)

##Eating and Drinking
The hotel steak house has a varied menu with Continental, Chinese, Arabic, Indian and Far Eastern delicacies, juicy steaks and fresh seafood. There is also a coffee shop where you can relax with coffee, fresh juices, ice creams and pastries while surfing the internet.

##Swimming Pools
The hotel has a rooftop swimming pool for guests to relax and unwind in.