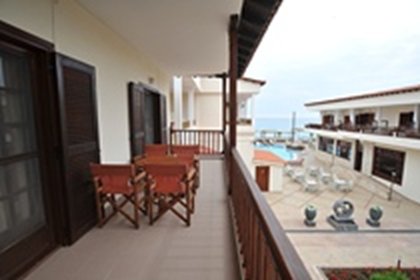 Hotel Overview
The Possidi Paradise Hotel combines a luxurious environment with traditional Greek architecture and a great location right next to the beach. Possidi itself is a quiet and relaxing resort, surrounded by beautiful countryside and overlooking crystal clear waters. The resorts beach is sandy and a great place to do a spot of sunbathing. There are some fantastic bars and restaurants in the town which can be explored at your leisure. The ancient town of Mende is just outside Possidi and a visit makes for a very interesting day out. The ruins of the town can be found on the plateau and slopes of a hill just south of Kalandra. The castle of Mende overlooks Possidi and is another fascinating site well worth a visit.

The hotel is a traditional retreat with whitewashed walls and cream arches framing the palm trees and garden beds in the courtyard. Near the coast you can find the outdoor swimming pool with views out to the sea and modern loungers for you to soak up some rays. For families there is a games room on-site and for the adults there is also a full-service spa offering indulgent massage treatments to help you unwind. After working up a sweat in the gym you can visit the sauna to relax before enjoying a hearty meal in the hotel.

*Official rating: 4**

##Location
Located in central Macedonia, the Possidi Paradise Hotel enjoys a peaceful spot on the coast of Kassandra. Just minutes from the hotel you can find the beach where you can spend time relaxing in the sunshine and cooling off in the ocean with water sports on offer too including kayaking and surfing. Towards the east you can find the majority of beaches with loungers and parasols peppering the sand whilst the west offers a tamer setting with unspoiled scenery and a cluster of beachfront cafes to sample the local cuisine.

##Accomodation
63 rooms are spread over three floors on this property. Each room offers; balcony, bathroom, direct dial telephone, air-conditioning, TV, refrigerator, air-conditioning, desk, daily housekeeping, in-room safe, premium bedding and Wi-Fi. Certain amenities may be payable locally.

##Eating and Drinking
The hotel's restaurant serves buffet meals throughout the day.

##Swimming Pools
The outdoor swimming pool boasts contemporary water features and an array of loungers with views out to sea. Guests can also indulge in spa treatments.