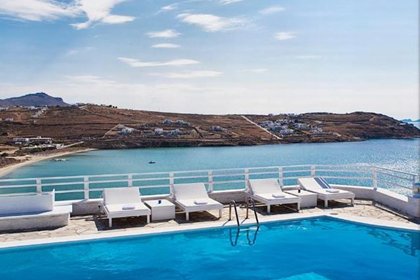 Hotel Overview
The Pietra e Mare Hotel is a 4 star hotel for couples only, located on the south-east coastline of the lovely Greek island of Mykonos overlooking the Aegean Sea. Situated in Kalo Livadi, the secluded Pietre e Mare enjoys a long sandy beach, has 30 delightful and romantic rooms and suites, fine dining and a splendid pool overlooking the Aegean Sea. Treat your partner to a relaxing and chilled stay in this delightful hotel which focuses 24/7 on your enjoyment. Mykonis Island offers a great climate, terrific locations in which to unwind, and many active fun spots; book into the Pietra e Mare Mykonos Hotel and chill to some serious pampering.
Getting to the hotel: Mykonos Airport serves or ferries operate from mainland Greece.
Local tips: 12km to Mykonos town for more lively restaurants, bars, shopping and entertainment. FACILITIES:Food, drink and entertainment: A la carte restaurant Secret Garden offers fine dining, tasting service, and private butler service, hotel bar, and pool bar.
Sport, games and activities: Outdoor fresh water pool, raised sun terrace with loungers overlooking the Aegean Sea, direct access to the beach which has private hotel loungers, and massage services available.
Additional: 24 hour Reception Services, housekeeping, 24 hour Concierge & guest relations desk (Concierge services on request), 24 hour room service, internet facilities, bell boy & valet service, laundry service, private parking area, wheelchair access, and there is a chapel for wedding services.