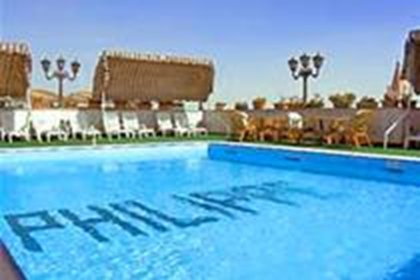 Hotel Overview
The Phillippe Hotel is just a couple of minutes walk from the banks of the Nile in the bazaar district. The fabulous Karnak and Luxor temples are a five minute walk away. Luxor is a typically bustling Egyptian city with historical archaeological remains to see and a local market full of colour, exotic sounds and smells.

##Location
The hotel has 69 comfortable wood floored rooms, pleasantly decorated and furnished. The property is just 350 metres from the Luxor temple and museum. The Karnak temple is approximately 2 miles away. The centre of Luxor has 3 main streets around which everything is based, and here there are plenty of souvenir shops, cafes and restaurants.

##Accomodation
All have * bathroom/shower * WC * TV * telephone * air conditioning * mini fridge * safe * hairdryer * (certain amenities may be payable locally)

##Eating and Drinking
The hotel has a restaurant and a rooftop pub.

##Swimming Pools
The hotel has a rooftop swimming pool from which there are views of the Nile.