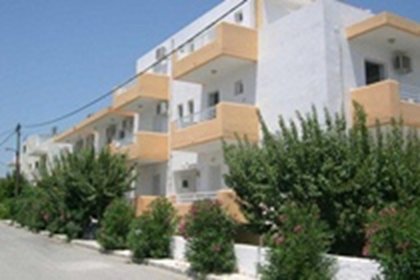 Hotel Overview
Peters Kool Pool Apartments is close to the centre of Kardamena, just a five minute walk from the beach and a three minute walk from the main nightlife areas. These family owned Kos apartments are perfect for a self catering holiday on the Greek islands and cater for singles, couples, groups, and even have some larger rooms suitable for families. All of the 30 rooms have a kitchenette, en suite bathroom and most, a balcony – some even have two.

The biggest attraction of Peters Kool Pool Apartments is that it is home to the largest and liveliest public pool near the centre of Kardamena. There is one large pool and two smaller pools, both of which have slides to keep the kids happy.

Next to the swimming pool is the main bar where you can get alcoholic and soft drinks, order food and sit in and eat, or order your food to take away. The mini bar is at the other end of the pool serves drinks only and both bars have friendly staff who are happy to serve you. With 150 sun beds around the pool area there is plenty of room for everyone and the pool is open and serving food and drink from 9am until 6pm everyday apart from Saturday, when it is open until the early hours of the morning for new arrivals.

##Accomodation
All have - balcony/terrace - bathroom/shower - WC - kitchenette - (certain amenities may be payable locally)

##Eating and Drinking
The complex has two pool bars. One serves food and drink to eat in or take away and the other just serves beverages.

##Swimming Pools
The apartments have a popular pool area with one large pool and two small pools, waterslides, plenty of loungers and two bars – one for drinks and the other for food and drink.