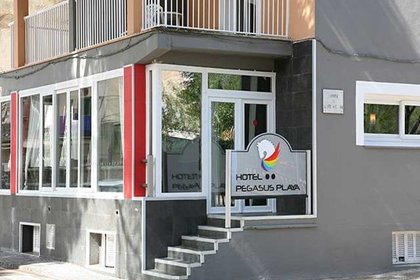 Hotel Overview
The recently refurbished Pegasus Playa Hotel is a pleasant hotel with a comfortable atmosphere that will not break your budget. The warm ambience and friendly staff make guests feel like they are home from home and the use of the nearby swimming pool offers an added enhancement. The hotels guest rooms are well equipped and feature everything you need for a great beach holiday in the sun. Book the Pegasus Playa Hotel in Playa de Palma and get real value for money while you relax in the sunshine.

Getting to the hotel: The hotel is just 4 km from the airport, at Playa de Palma with a direct bus route stopping outside the hotel for both arrivals and departures.
Local Tips: The hotel is just a short 300 metre walk to the 4.6 km long and 50 metre wide beach with excellent water sports. The city is just 12 km from the hotel with several bus lines running every 20 minutes as well as a door-to-door taxi service.