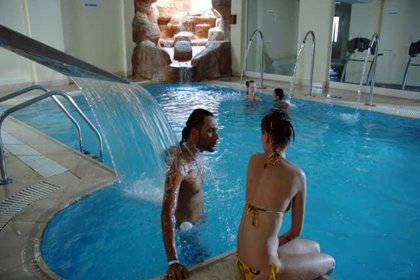 Hotel Overview
 
For a great holiday in Egypt's premier resort look no further than the fabulous resort of Park Inn Sharm El Sheikh to book your stay.
Situated on the southern tip of the Sinai Peninsula, the new Park Inn Hotel Sharm El Sheikh sits just steps away from the beautiful, white sandy beaches of the protected Nabq area. The resort houses excellent facilities to take advantage of and has some great attractions nearby. Sharm El Sheikh boasts some of the best diving sites in the world and has a huge selection of nightclubs, restaurants and bars. There is a free shuttle bus to the beach and a shuttle bus to Naama Bay at a local charge. All in all the resort is arguably a perfect destination for a sun-kissed beach holiday. It should be noted however that due to its position this hotel is not advisable for those holidaymakers who rely on a wheelchair to assist mobility or those who experience difficulty in walking.
 
Getting to the hotel: Sharm El Sheikh Airport is only 10 minutes away.
 
Local tips: Guests staying at the Park Inn have free unlimited access to the Aquapark adjacent to the hotel.
 
Official Rating: 4*
 
Please note: Rates and conditions are only valid for UK passport holders. FACILITIES:Food, drink and entertainment; hotel features 2 restaurants serving main meals with drinks available throughout the day from the hotel's bar/cafe's and poolside bar. A full evening entertainment programme is operated throughout the season including belly dancing, dancing and live music.The hotel also operates a strict dress code and guests are required to wear suitable attire at all meal times.
 The Radisson team have arranged a New Year's cozy eve dinner party with an upgraded selective Buffet. The auspicious night will be spent in the company of our live entertainment.
Sports, games and activities; two outdoor swimming pools, spacious sun terraces with ample loungers and parasols, indoor Jacuzzi (heated), 3 saunas and steam rooms, fully-equipped fitness centre, health club with beauty treatments and massage, darts, table tennis, beach soccer and volleyball, water basketball, pool games. Adjacent to hotel is large Aquapark with lazy river, wave pool and 31 slides for all ages which guests can access.
Free unlimited use of Aquapark for stays between 01 May '15 and 31 Oct '15 only, all guests have free unlimited access to the hotels Aquapark situated next door to the hotel. 31 slides in total, 13 for children and 18 for adults.
For the kids; Children's outdoor swimming pool, hotel-run kids club (4-12 years); children's menu; playground.
 
Additional; 24 hour reception , hairdresser; beautician; laundry facilities; mini-market; souvenir shop; shopping mall; daytime animation programme; evening entertainment programme includes belly dancing; shuttle bus to Naama Bay (extra charge).