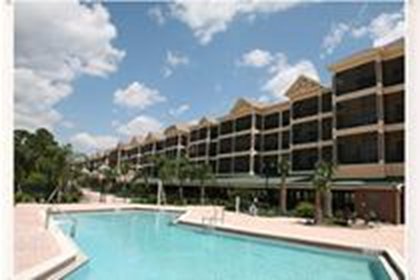 Hotel Overview
The newly built Palisades Resort is just minutes from Disney's west gate entrance and sits on the shores of the Lake Austin Reserve. The property offers 2 and 3 bedroom fully equipped apartments in a hotel resort environment. Complete with a self service cafe for morning or evening meals and a mini-market for general day to day items and snacks.

##Location
Orlando is the perfect family holiday destination featuring hundreds of bars and restaurants, an attractive nightlife and countless outdoor activities for visitors to enjoy.. The Lake Austin Reserve lies within easy reach of the Westside Town Centre, Bahama Bay Resort, Caribe Cove and countless commercial, retail and restaurant facilities.The resort is just minutes from Walt Disney World and a short drive from SeaWorld, Wet and Wild and all the other theme parks the area is famous for.

##Accomodation
All apartments have * bathroom/shower * WC * kitchen * dishwasher * microwave * refrigerator * washer and dryer * (certain amenities may be payable locally)

##Eating and Drinking
The resort has a cafe. Deluxe continental breakfast is served.

##Swimming Pools
The resort has a swimming pool.