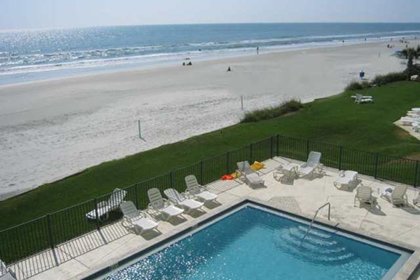 Hotel Overview
The Oceania Beach Club Hotel is a delightful oceanfront complex located on New Smyrna Beach in the popular vacation destination of Florida. Perfectly positioned close enough to enjoy the myriad attractions of Daytona and Orlando, the friendly Star Oceania Beach Club Hotel is only steps from the quaint street of Flagler Avenue with its local shops, boutiques and a variety of restaurants a well as being close to tennis courts and the local playground. Two bedroom, two bath condos have stunning ocean views and provide everything needed for a comfortable, self catering holiday in the Sunshine State. Daytona Airport is 51 km from the Oceania Beach Club.
Local Tips: The Oceania Beach Club is an easy drive from the Daytona International Speedway, Disney/MGM Studios, Epcot Centre, Magic Kingdom, Kennedy Space Centre, St. Augustine, Wet & Wild Water Park, Universal Studios, and Sea World.
Please note: A mandatory one time cleaning fee is to be paid by guests directly to property upon arrival. The approximate price is $90-$100 (subject to change).Please Note – Rates are exclusive to European Union passport holders only FACILITIES:Food, drink and entertainment: Self Catering accommodation. The Oceania Beach Club is within walking distance of plenty of shops, restaurants and bars. The hotel has an oceanfront sundeck and pool (heated during winter months), and there is 13.2 miles of snow white sand for surfing, shell collecting, swimming, dolphin watching, biking, and bird watching. There are plenty of opportunities for Golf nearby.
Additional: Daily housekeeping, washer/dryer in common area, conveniently located elevator. Wi-Fi is available in the lobby and recreation room with a computer for printing boarding passes. Please note there is a mandatory cleaning fee of $95.62 per room per holiday.
Please note: There is a mandatory 1 time cleaning fee to be paid directly to the property upon arrival. The approximateprice is $90-$100 (subject to change).