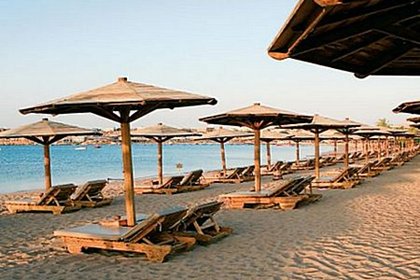 Hotel Overview
Novotel Sharm El Sheikh Beach Hotel
For business or pleasure, when in Sharm El Sheikh book your stay at the comfortable and friendly 5 Star Novotel Sharm El Sheikh Beach Hotel. This elegant hotel is located in the centre of Sharm El Sheikh on the picturesque and peaceful Namma Bay with its famous beaches and waters full of marine life and coral reefs, as well as restaurants and nightspots. This modern property boasts its own private beach and has many facilities for all to enjoy. The city centre is just 20 minutes away with lots of shops, cafes, restaurants and attractions. For an unforgettable holiday or business trip to Egypt, the Novotel Sharm El Sheikh Beach Hotel is right on target!
 
Sharm El Sheikh International Airport is 12 km from the hotel.
 
Local Tips: The little town of Sharm El Sheikh, 7 km south of the tourist centre, is well worth an evening visit for a taste of real Egypt.
 
Please note rates and conditions are not valid for passport holders of the following countries: Saudi Arabia, Kuwait, Qatar, Bahrain, Oman, Iraq, UAE, Israeli, Egypt, Lebanon, Jordan, Syria, Libya, Morocco, Tunisia and Algeria.
  FACILITIES:The Novotel Sharm El Sheikh Beach Hotel offers beautifully maintained gardens and comfortable accommodation for an unforgettable holiday.
Food, drink and entertainment: Main restaurant offering breakfast and lunch buffet, theme night dinner buffet along the week, 2 a la carte restaurants, cafe snack bar and the Bedu Bar overlooking the promenade and sea, offering light snacks and several drinks and cocktails, musical entertainment and cabaret, oriental show, live music.
Sports, games and activities: Heated swimming pool, Jacuzzi, Hammam, baby pool, spa, fitness centre, table tennis, volley ball, sandy private beach with wind surfing facilities and Snorkelling/Scuba diving centre. Plenty of water sports available with charge. Indoor playground for children and babysitting on request with charge.
Additional: 24-hour reception, tourist information desk, currency exchange, room service, porter, dry cleaning/ironing, gift shop/newspaper shop, fax machine (with charge), Internet (with charge).