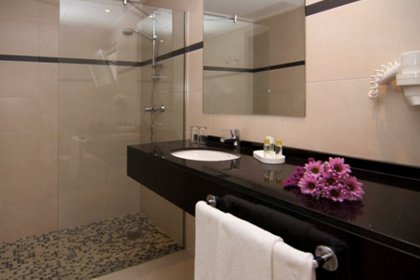 Hotel Overview
The Hoposa Montelin Apartments are situated in a tranquil area close to Puerto Pollensa on the Spanish Balearic Island of Mallorca, a residential estate called El Pinaret 800m from the town centre and 150m from the beach. Hoposa Montelin Studio Apartments are popular with families seeking affordable independent living and consist of 24 modern self-contained apartments spread over a 2-storey building, focused on the compact swimming pool and garden area. You benefit from available facilities at the neighbouring Villaconcha Apartments for entertainment, additional recreational activities and Kid's Club. The swimming pool has a poolside snack bar with a lunchtime light menu. Mallorca Island has plenty to offer all the family for a terrific holiday; why not book into the great value of the Hoposa Montelin Apartments at Puerto Pollensa and make the most of your budget.
 
Getting to the hotel: 65km from Palma de Mallorca International Airport.
 
Local tips: A 15-minute walk from the bus stop; Puerto Pollensa offers numerous restaurants, bars and shops.
  FACILITIES:Food, drink and entertainment: Poolside snack bar with lunchtime snack menu; a lounge bar and sun terraces; restaurant option at Villaconcha. There are a variety of shows and live music during the day and evening.
 
Sport, games and activities: Swimming pool, solarium with comfortable seating and shade, garden areas; and free table tennis and pool tables, and a recreational area with gaming machines (charge) at Villaconcha. External activities include hiking and cycling with bike facilities at the hotel (garage, bike washing area, tools, mechanical service), horse riding, water sports: sailing, windsurfing, scuba diving, rental of recreational crafts, and golf: Pollensa golf course, 10 km; Alcanada golf course, 15 km.
 
For the kids: Kid's Club at Villaconcha Apartments provides supervised activities and entertainment, and water attractions of water slides and facilities.
 
Additional: Front Desk services available at the next door Villaconcha Apartments include: housekeeping, free WiFi internet, currency exchange, laundry service, healthcare service, excursions arranged, and rental of cars, motorcycles and bicycles.