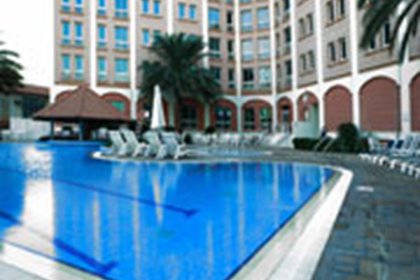 Hotel Overview
The Metropolitan Hotel is superbly located in the heart of the rapidly growing commercial district of Dubais Sheikh Zayed Road, close to the World Trade Centre exhibition halls, with easy access to Jebel Ali Free Trade Zone, Media and Internet Cities. The Metropolitan Hotel Dubai is also just a short drive from Safa Park in Dubai and the golden beaches of the Arabian Gulf. In addition, the hotel's eleven restaurants and bars are well known throughout Dubai for providing excellent quality and value for money. Adjacent is Metroplex 8 screen cinema complex along with Food Court. The airport is approximately 16 kilometres from the hotel; drive time is 30 minutes.

New Year's Eve Gala includes Lavish Buffet Dinner with Unlimited Beverages until 12.15am & Live Entertainment, also a Glass of Champagne at midnight.

The Holy Month of Ramadan is expected to last from August 22nd to September 20th in 2009. As a sign of respect, guests are asked to refrain from consuming food, drinks, chewing gum, smoking, listening to loud music in public areas during the fasting hours of the day. A major attraction are the Ramadan Tents with live entertainment during the evenings.