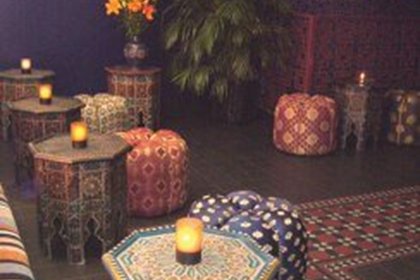 Hotel Overview
This Moroccan-themed hotel underwent renovation work in 2005 and offers top-quality service, welcoming personnel and 200 private rooms spread over 5 floors. Facilities include a chic lobby with a 24-hour reception desk. Signature design elements are accented throughout the hotel such as authentic Moroccan lamps, dining tables, ceramic tiles, rich fabrics, and robust colours combine to present an atmosphere of tranquillity and excitement. There is a laundry service to take advantage of.

## Location
Affording a prestigious location in the Upper West Side, one of New York's most vibrant residential districts, this hotel is situated just a few blocks from Central Park, Columbia University and the world-famous Gothic cathedral of St. John's. Public transport can be found just a few paces away and it is around 7 km to an array of famous sights including Times Square and Madison Square Garden. The American Museum is approximately 2.5 km away, Greenwich Village 9 km from the hotel and it is around 11 km to the famous Museum of Modern Arts.

## Rooms
The recently modernised rooms feature an en suite bathroom. Facilities include cable TV, a radio, Internet access and ironing equipment. Centrally controlled air conditioning and heating come as standard.

## Payment
American Express, Diners Club, MasterCard and VISA are accepted.

## Notes
There are no lifts in the hotel. The minimum check-in age is 21. There are no room cahrges for children 12 years old and younger who occupy the same room as their parents or guardians, using existing bedding.