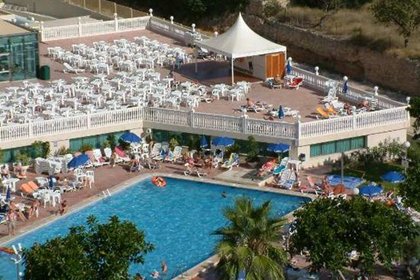 Hotel Overview
Benidorm is singing from a new song sheet. And it's charting fastest at Marconfort Benidorm Suites. Take note! The theme-tune here is 70's, 80's and 90's music. Smart suites that rock the chic-look yet soothe you with a gentle rhythm. If you love music, the beach and full-on entertainment – the All Inclusive Marconfort Benidorm Suites are a huge hit with all the family.
Local Tips
Slow the pace but not the excitement: take an excursion on land or sea. Don't forget to explore Benidorm old town for some culture.
 
Getting to the hotel: Alicante Airport is 57 km from the Marconfort Benidorm Suites.
 
For a great day out visit Terra Mitica; located on the outskirts of Benidorm, a wonderful park where the lost civilisations of the Mediterranean has been recreated through heart stopping thrill rides, water chutes, great indoor shows and fabulous innovative street entertainment.
Please note: The sports Bar is being changed to an Indian restaurant. This restaurant is in the hotel but on the floor - 1 which means that no rooms are affected by noise only occasionaly reception and one of the lounges.
  FACILITIES:
Fire-up your taste buds and excite your appetite with fresh, creative Mediterranean dishes and reliable favourites with a twist. Show-cooking corner and themed evenings let you explore a taste-map of the world. Mingle in the music-themed bars; catch screened sports and video games; and get lively with shows and organized entertainment. Meantime Benidorm beckons.
We are pleased to inform you about our new Indian restaurant we are going to open in April 2016 in our hotel Marconfort Benidorm Suites. Restaurant will be included for guests on AI. 
 
Activities
Join in with the organized activities. There's a focus on the kids in summer season and school hols. If you're feeling energetic, bikes are good news here and there's a gym and sauna. A light massage followed by a dip in the pool works wonders; there's a kid's pool also.
The beaches are brilliant; water sports fab; and entertainment non-stop.