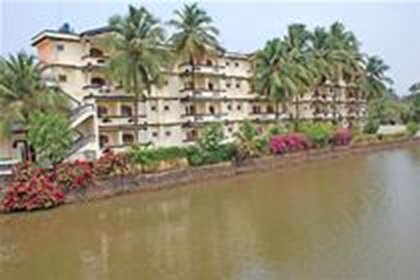 Hotel Overview
The Maizons Lake View Hotel overlooks the lake and is less than a mile from the beach and the resort centre. Goa was once ruled by the Portuguese and still has many influences left today. The local markets have a bustling atmosphere where you can haggle for local silk, spices, fruit and vegetables, souvenirs, jewellery, carpets and carvings. The local cuisine uses rice, fish or coconut to make great delicately spiced curries, and fine seafood dishes.
Maizon LakeView Resort lays the passage to the world of tropical paradise. Couched in a heavenly location, beside a Lazy majestic Lake, at Arpora, this resort takes you to the world of dreams. Maizon LakeView Resort lies surrounded by small mountains, coconut groves, enchanting emerald fields, landscaped gardens and spacious lawns.
The friendly staff at the 24 hour front desk are multilingual are more than happy to assist with tour arrangements and provide information about the area and nearby attractions.

**Official Star Rating: 3**

##Location
The nearest supermarket is 500 metres away. There are good local water sports and even a chance to go dolphin watching. The hotel and its grounds cover approximately 9 acres and Calangute, Baga and Anjuna beaches are all nearby. Furthermore, the local public transport services opens up access to the rest of the city.

##Accomodation
The hotel has 107 rooms spread across 4 floors in a scenic area surrounded by green fields and mountains. The rooms are well designed, fully furnished, spacious and airy, opening out into the swimming pool, the majestic lake and the luxuriant country side. Rooms are single/double bedroom and with/without AC. Please note that certain amenities may be payable locally.

##Eating and Drinking
New Maizons has two multi cuisine restaurants. One by the pool in a landscaped garden with a lake view called Royal Treat. The other restaurant called Blue Lagoon is set in the middle of the hotel's own lake. Besides the luscious Continental, Indian, Goan and Seafood cuisine, the setting of the restaurant literally has an intoxicating feeling. Additionally the hotel is near to many of the area's cafés, bars and restaurants.

##Swimming Pools
There is an outdoor swimming pool at the hotel.