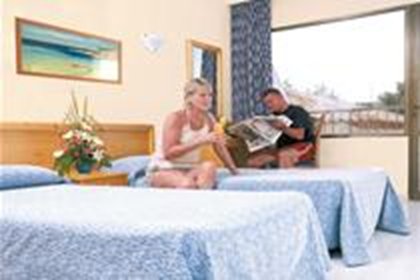 Hotel Overview
The Lively Magaluf Hotel Majorca is situated between the beaches of Palma Nova and Magaluf, in the heart of Magaluf's famous nightlife area. By day you can relax on one of the nearby beaches and enjoy a full range of water sports including scuba diving, water skiing and surfing whilst at night, the Lively Magaluf Hotel is perfectly positioned for Magaluf's bars, pubs and disco's and is a great choice for clubbers.

The three-star Lively Magaluf Hotel has 87 air conditioned rooms, all of which have a balcony or terrace, a telephone and a TV. This recently refurbished property also has an inviting outdoor swimming pool with sun terraces and shaded areas and a lively cafe-bar. With chill-out evenings, daily parties and music on the poolside terrace this Lively Magaluf is one of the best places to stay in Majorca for music and nightlife lovers.

Free of charge Wi-Fi internet access is available in the hotel lobby, restaurant, bar, sun terrace and pool area and there is a varied programme of entertainment and activities to join in with every week. The Lively Magaluf reception area is open 24 hours a day and offers currency exchange facilities as well as safety deposit boxes and there are several lounge areas with large screen TV's showing sport and music.

*Official star rating: 3**

##Location
Majorca is the largest of the four Balearic Islands, situated off the East coast of Spain in the Western Mediterranean. The island boasts sandy beaches and views of the stunning azure sea. The island has a great infrastructure with great transport links, over 2,500 restaurants and a 41 Marinas. Majorca is the ideal location for a family or couples holiday. The island is filled with hiking trails and cyclist routes, making seeing the sights a fun-filled adventure. Guests can enjoy the nearby town of Magaluf, known for its lively party atmosphere and abundance of bars and nightclubs

##Accomodation
All have - balcony/terrace - bathroom/shower - WC - telephone - air conditioning - satellite TV. Please note some amenities may be payable locally.

##Eating and Drinking
The main restaurant opens from 10.30am to 12.30pm serving a brunch buffet to aid recovery after the night before's partying. There is a 'wake up' bar serving coffee from 9am to midday, a pool bar and snack terrace open between 1pm and 8pm and an indoor bar. During happy hour beer is just 80p a pint and when the bars are not open there are vending machines for water and soft drinks.

##Swimming Pools
The Lively Magaluf Hotel has an outdoor swimming pool and sun terrace furnished with loungers and parasols. Around the pool expect a lively atmosphere with music throughout the day (although there is a chill-out area) and a convenient bar for drinks and snacks.