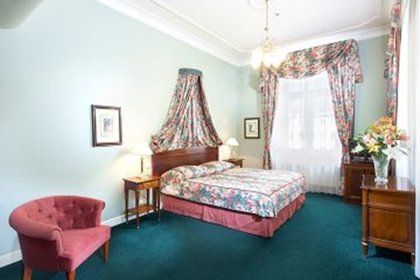 Hotel Overview
location:
The hotel is located in a pedestrian zone just off Wenceslas Square, right in the shopping area.
rooms:
Rooms are medium to large and are in excellent condition. All rooms are tastefully furnished with dark wooden furniture. Bathrooms are in excellent condition too. Wi fi in all rooms and public aras free of charge.
restaurant:
The breakfast room is located on the lower ground.
exterior:
A beautifully renovated classical facade, facing the busy promenade.
lobby:
The lobby is small, but at the far end of the hall way is a comfortable seating area.
general:
A very good standard hotel with a top location just of Wenceslas Square and only a short stroll from the Old Town.
Area Details:
17 kms to the nearest airport (václav havel airport prague), 1 minute walk to the nearest metro station (mustek), 1 km to the nearest station (holesovice hlavni nadrazi), 4 km to the nearest fair site (veletrzni palace congress cent).
Hotel Facilities:
Small sized lobby, Earliest check-in at 14:00, 1 lift, Porterage 24 hour, 5 floors, Gymnasium, Sauna, Business centre, Disabled facilities.
Room Facilities:
Internet via television, Connection for laptop, Air conditioning, Television, Satellite television, Mini bar, Hairdryer, Voltage 220v.
CopyRight:
(c) Donvand Limited 2015
Please Note: The hotel restaurant will be closed from November 13, 2015 until March 31, 2016.