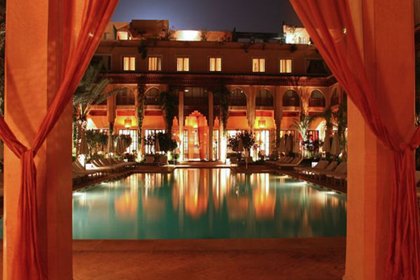 Hotel Overview
The 5 Star Les Jardins de la Koutoubia Hotel is ideally located on a magnificent setting full of splendour just steps away from the city centre, with all the colourful bustle of the Jemaa El Fna Square. This peaceful haven stands on the site of Riad Ouarzazi from the 13th century and is a terrific hotel for couples and families a wide range of leisure facilities and activities and 100 attractive rooms and suites with modern amenities. Guests to the Les Jardins de la Koutoubia Hotel can explore all the famous attractions and delightful villages nearby and experience real Moroccan hospitality. For a memorable holiday in Marrakesh, the Les Jardins de la Koutoubia Hotel is a perfect choice!
 
Getting to the hotel: Marrakesh Menara Airport is 5 km from Les Jardins de la Koutoubia Hotel.
 
Local tips: The hotel is only a few meters away from the Jemaa El Fna Square, the Koutoubia Mosque, the city's monuments, and only a few minutes away for the new city and its trendy shops.
 
A local tax of 28.60MAD per person per night is to be paid directly at the hotel. FACILITIES:Food, drink and entertainment: The hotel offers a Moroccan restaurant, a brasserie, a snack bar and an Indian/Asian fusion restaurant (the restaurants operate in rotation). There is a sultry piano bar and peaceful lounges in which to kick back and relax.
 
Sports, games and activities: Swimming pool, Jacuzzi on the roof, hammams, a fitness centre, and a new spa by Clarins (over 16's only) with heated pool, massage service and more. There is a beautiful garden and terrace area.
 
Additional: 24-hour reception, Concierge, currency exchange, air conditioning in public areas, room service, safe deposit box, lift.